Mackenzie Construction scoops two top awards at Scottish Civil Engineering Awards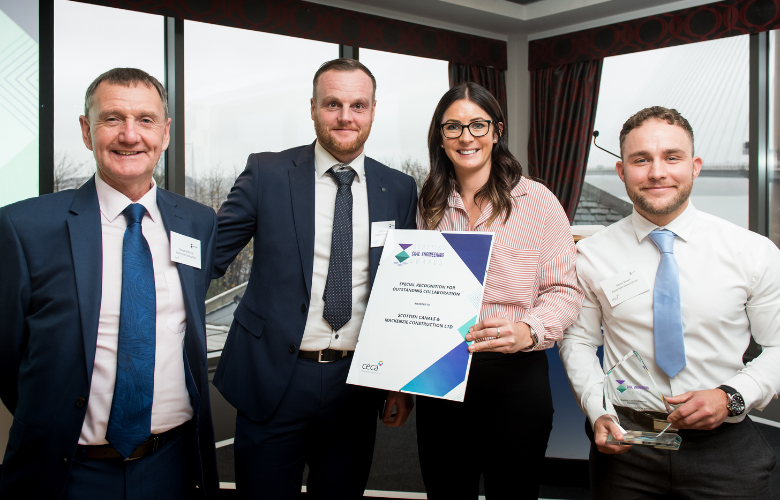 Glasgow based civil engineering business, Mackenzie Construction, has been awarded two top accolades at the prestigious Scottish Civil Engineering Awards. The business took home the Community Wellbeing Award for its project with Scottish Canals on the regeneration of 'The Claypits' Local Nature Reserve in North Glasgow and whilst its work on the remediation of the Union Canal breach, again with Scottish Canals, received the Special Recognition for Oustanding Collaboration.
Mackenzie Construction is a longstanding delivery partner to Scottish Canals and the two organisations have worked in partnership for the past 15 years, preserving Scotland's historic canals and regenerating areas along the network into vibrant community spaces. The partnership has had a successful run at the Scottish Civil Engineering Awards taking home awards in 2019, 2020 and 2021 including 'The Greatest Contribution to Scotland' for its role in delivering the pioneering flood management system – Glasgow's Smart Canal.
Awarded the Community Wellbeing Award, The Claypits project in North Glasgow has seen previously derelict and underused land transformed into an expansive green space that now connects the local communities of Firhill, Woodside and Hamiltonhill. This has provided some of the most deprived areas of Glasgow access to local wildlife, active travel networks and the Forth and Clyde Canal which has seen the space used for a variety of activities including walking, cycling, kayaking, paddleboarding and fishing. Recent studies from Glasgow Caledonian University identified that those living within 700m of the recently regenerated canal area had a 15% lower risk of suffering from cardiovascular disease, a stroke or hypertension.
Mackenzie Construction's work on the project included the design and build of a sliding pedestrian bridge, environmental and habitat improvements, high quality hard landscaping, drainage and canal wall repairs. Robbie MacLean, Contracts Manager at Mackenzie Construction was in attendance to collect this award. He shared,
"We're proud of our role in the regeneration of The Claypits in North Glasgow. This is an area rich in heritage that was once the centre of Glasgow's industrial revolution. Over the centuries, it had fallen into disuse with the area severely lacking usable green space and active travel routes. To see the way the space has been revitalised and how local communities have come together to enjoy it has been fantastic."
The second award picked up by Mackenzie Construction, was a Special Recognition for Oustanding Collaboration for its work on the Union Canal breach. From the emergency response right through to canal resilience works, Mackenzie Construction worked closely with client, Scottish Canals, and geotechnical specialists, Gavin & Doherty Geosolutions, to ensure the canal was repaired and refilled for the spring reopening of the canal. This involved extensive remodelling of the breach to design a suitable repair programme and a series of resilience works that will safeguard the canal for generations to come.
Gavin Chesney, Contracts Manager at Mackenzie Construction shared,
"From the initial breach, Mackenzie Construction were on site with Scottish Canals as part of the emergency response team who worked tirelessly to stop the flow and minimise the impact on the local area. Following this was a well-planned programme that run to schedule due to the intense collaboration between teams that saw us meet our target."
Andy Dalrymple, Managing Director at Mackenzie Construction added,
"To take home two awards at the Scottish Civil Engineering Awards is a fantastic achievement for our business and I am incredibly proud of our whole team. Everyone, from our office staff through to our site delivery squads, have played a role in achieving this success and we look forward to celebrating as one team."