Making history at the Scottish Civil Engineering Awards with Scottish Canals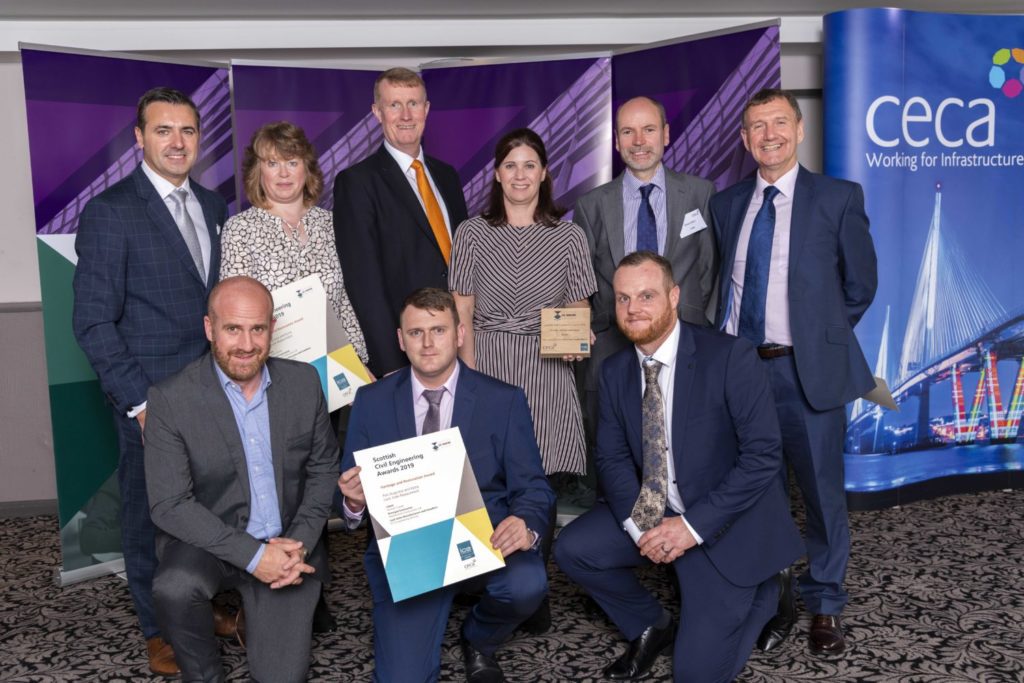 Mackenzie Construction and Scottish Canals have jointly won the Scottish Civil Engineering Award for Heritage and Restoration 2019 for their work to replace the Fort Augustus and Kytra Locks on the Caledonian Canal.
At an event at the Doubletree by Hilton Queensferry Crossing, it was announced that Mackenzie Construction and Scottish Canals had jointly won the prestigious award for their work to replace the giant lock gates at Fort Augustus and 3km south at Kytra on the historic waterway.
Opened in 1822, with repairs and improvements made in the 1840s, the Caledonian Canal was built to designs made by famous Scottish engineer Thomas Telford. It took twelve years to construct and the waterway's 60 miles (96.5km) length includes lochs Ness, Oich and Lochy and 22 miles (35km) of canal with 29 locks.
The project itself was no small task as it involved draining a 7,293m (23,927ft) long section of the Caledonian Canal in a process called dewatering, which involved closing some lock gates and locking them closed for the duration of the project.
The overall section of canal involved was closed to traffic throughout but there were many notable successes during the project, including early engagement of supply chain, stakeholders and the local community, close and effective collaboration, communication and problem solving between Scottish Canals and Mackenzie Construction and shared aims and goals known and understood by the entire project team, with safety and environmental impact central to all decision making.
Both Mackenzie Construction and Scottish Canals were in attendance and thrilled to win the award and Andy Dalrymple, Managing Director of Mackenzie Construction, said of the win,
"We are absolutely delighted to win this Scottish Civil Engineering Award in partnership with Scottish Canals for the historic project at Fort Augustus and Kytra. The project was one that we are extremely proud of for the quality of our operations, delivering safely and with consideration to the environment, and the way our teams integrated, communicated and worked together with our supply chain. We were very proud to stand with Scottish Canals and collect the award on behalf of everyone who worked on it and I know it will be a project we will look back on for many years to come."