NGIWMS: Glasgow's Smart Canal
Client: Scottish Canals
Project value: £3.5M
Location: Forth & Clyde Canal
Timeframe: 2012-2020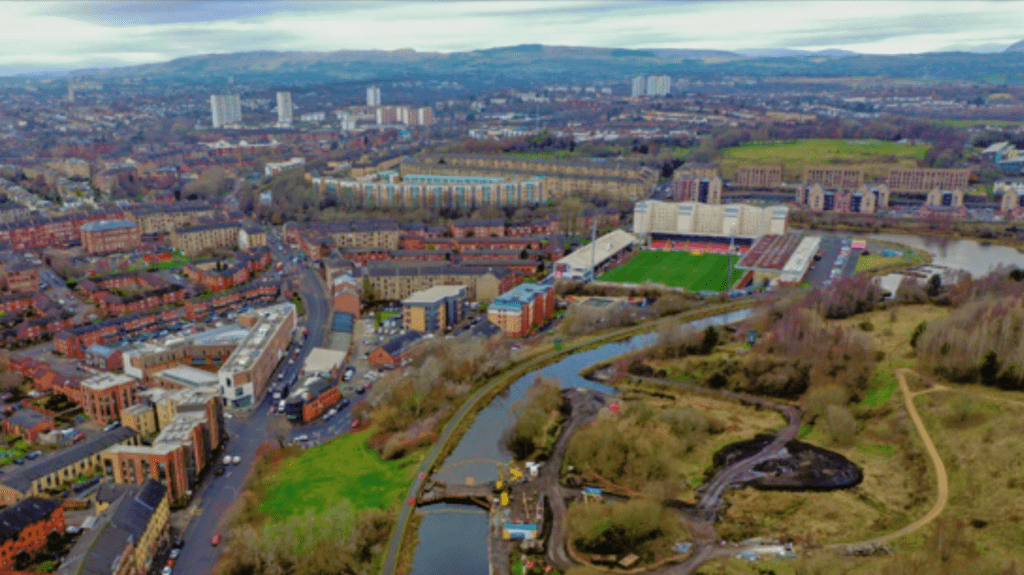 Background
Construction of Europe's first ever 'Smart Canal', using the 250-year-old Forth & Clyde Canal and 21st Century technology to mitigate flood risk provide surface water drainage, and combined with massive regeneration, is now in operation in Glasgow.
The project was designed and developed by AECOM in conjunction with Scottish Canals, Glasgow City Council and Scottish Water, with funding support from Glasgow City Region City Deal, the European Regional Development Fund, Green Infrastructure and Smart Cities Scotland.
Challenge
To safely manage surface water run-off that would pose a threat to the wider Glasgow area and motorway network and implement the system within the canal network, which is a scheduled monument and an historical site of significance.
With the project developed for implementation in North Glasgow, the project focus was managing the Forth & Clyde Canal and associated infrastructure, spanning the Central Belt.
Our solution
Officially named the North Glasgow Integrated Water Management System (NGIWMS), the project sees North Glasgow passively absorb, clean and manage rainfall intelligently. Advanced warning of heavy rainfall will automatically trigger a lowering of the canal water level to create capacity for surface water run-off.
Before periods of heavy rain, canal water can move safely through a network of newly created controls and systems – from sustainable urban drainage ponds and granite channels to the canal – which absorb and manage water in a controlled way, creating additional capacity for surface water run-off.
The concept design commenced in 2012 and subsequent construction started in April 2018, with the system going live in Spring 2020. The scheme sees the Forth & Clyde Canal connected to five new sites over the next five to ten years, including Sighthill, Hamiltonhill, Ruchill Hospital, Cowlairs and Dundashill.
The pioneering digital surface water drainage system unlocks 110 hectares of land across the north of the city for investment, regeneration and development, paving the way for more than 3000 new homes.
Evaluation of the concept, and the alternative traditionally engineered solution which would have required a two-kilometre tunnel connecting to the existing water environment, formed the basis of a business case. This demonstrated that adoption of the existing canal infrastructure realises significant cost efficiencies compared to traditional engineering solutions. The system comprises of a number of automated hydraulic controls constructed on the canal network, along with hydrological modelling and data management to develop the autonomous system.
This was the first of project of its kind to be undertaken by Scottish Canals. Working in close partnership with both AECOM and Scottish Canals, we overcame multiple design challenges and physical construction difficulties to construct the project on this historic site. This was achieved by our flexible approach to the delivery, strong partnerships and our many years of experience of working within the canal network.
Added value
There are additional opportunities that are now being considered across Scotland's canal networks for the efficient management and use of water resources to support tourism, development, regeneration and environmental improvements, as well as further flooding solutions. Along with the changing public attitude to climate change and resource use, this project is an exemplar to the efficient use of existing and historic infrastructure to create an innovative, first for Europe. One of the key recent highlights, not originally a driver for the project, is that the project is estimated to save over 30,000t CO2e.