The remediation of the Union Canal breach at Muiravonside
Client: Scottish Canals
Location: Union Canal, Muiravonside near Falkirk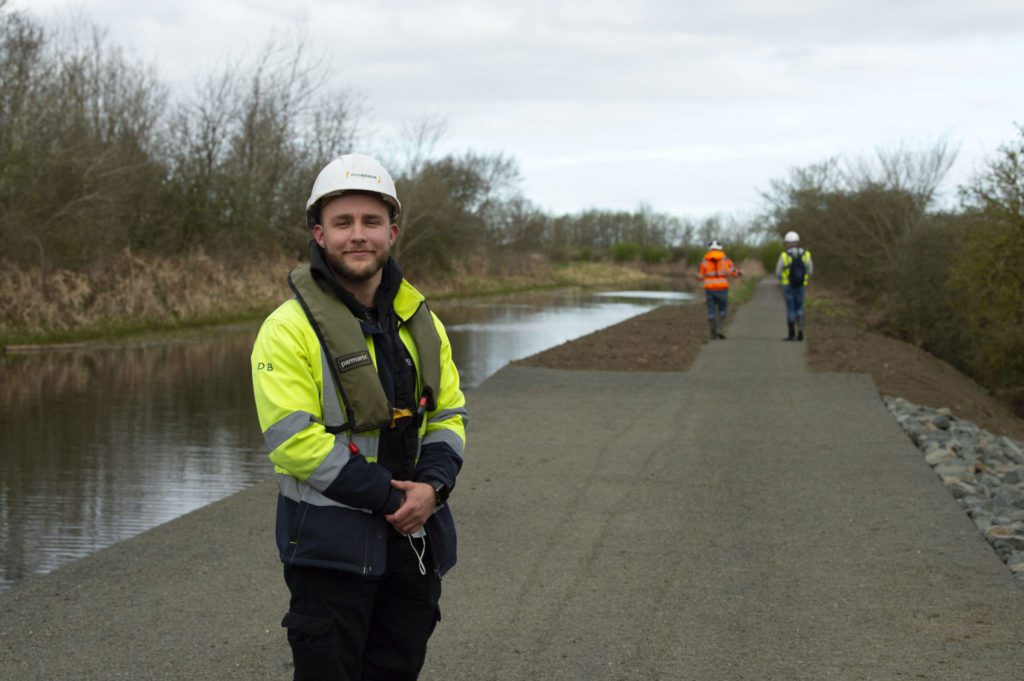 Key project features: 
Emergency response
Canal remediation works
Geotechnical and structural design
Embankment resilience
Stakeholder collaboration
The background
Following a once in 240-year flash flooding event last August, Mackenzie Construction was contracted to emergency works at the site of an embankment breach on the Union Canal, near Muiravonside. The scale of the breach resulted in a 30m wide gap and a loss of around 75,000m3 from the canal. Once the emergency dams were put in place and the water flow stopped, the priority was to establish a safe site for the embankment repair and a programme of resilience works to futureproof the 200-year-old Union Canal against future climate change events.
The challenge
The location of the breach presented several challenges. Past the locks of the Falkirk Wheel, the Union Canal stretches for 50km without any lock gates making it difficult to stem the initial flow. With the remote location of the breach, there were also access issues with no direct road access meaning a 600m long haul road had to be constructed.
Once the initial flow was stemmed and the repair works commenced, the project team then faced the key challenge of identifying the root cause for failure. With no embankment left and nothing to inspect, working with its contractors, Mackenzie Construction utilised drone footage to model the failure and identify the cause of the breach.
The canal network usually shuts down over winter for general upgrading works with a spring reopening date so there were time pressures on the project for the canal to be rewatered by early March 2021.
The solution
Temporary clay damming
Construction of temporary access road
Geotechnical and structural design
Embankment repair
New weir installation
Culvert clearing
Lock stock improvements
Added value
A collaborative relationship between the Mackenzie Construction team, our client Scottish Canals and our subcontractors facilitated clear lines of communication and a quick turnaround from the initial emergency works into a full refurbishment programme and the canal reopening.
Mackenzie Construction continues to work alongside Scottish Canals, considering future canal resilience and protecting Scotland's ancient waterways against further climate change events.