Success at Glen Ogil Estate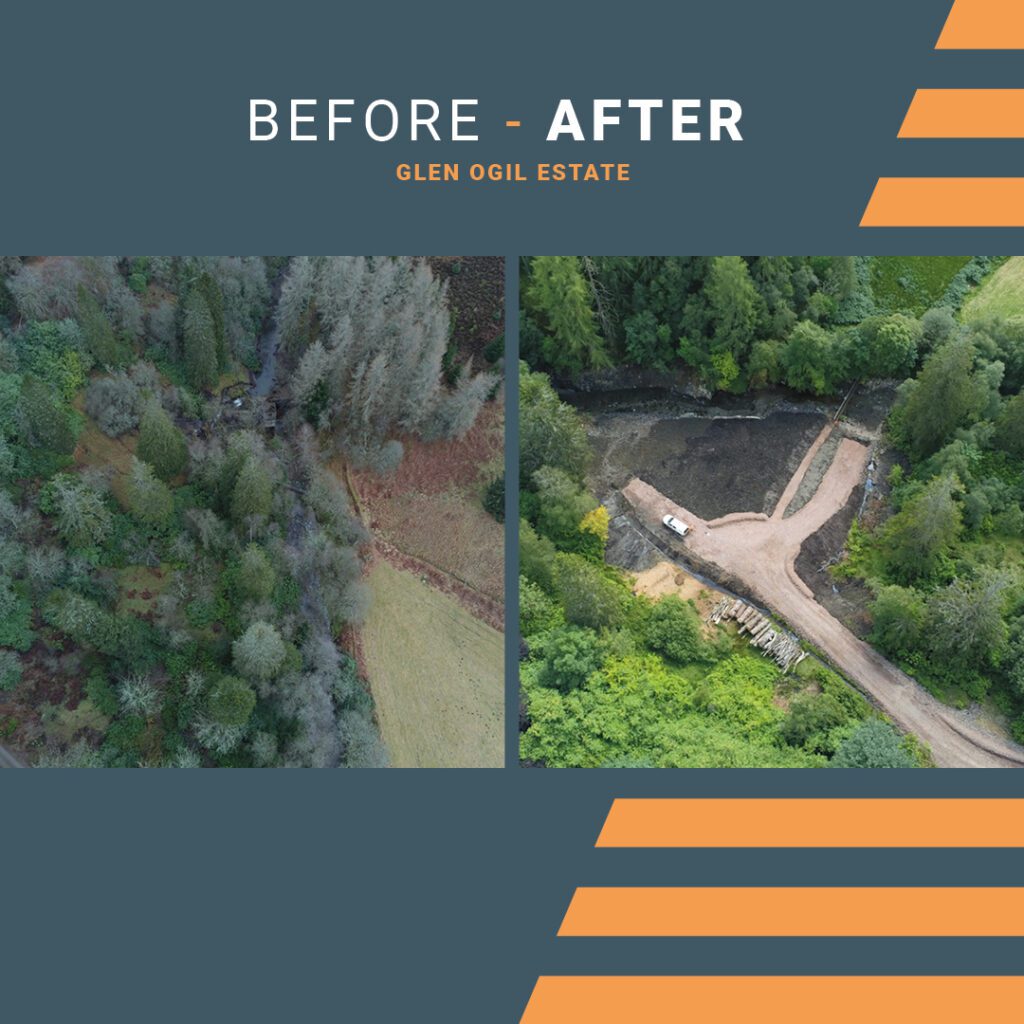 A recent successful project for Mackenzie Construction saw the SW Energy team ask our team to look at repairing approx. 100m of a 15"CI raw water main that feeds a hydro station near the village of Tannadice approximately 4 miles from the Glen Ogil Estate.
The embankment where the water main was located had collapsed as a result of a blocked dam with a weir wall on the Glen Ogil estate that was causing water to back up along the river. At some point the weight of water became too great and caused the weir wall to collapse, creating a huge surge of water discharging uncontrolled and a large 5m deep area of erosion on the embankment.
The collapse of the dam, the erosion of the embankment and the water main were all down a steep gradient that was covered in peat and within a heavily forested area. The project required Mackenzie Construction to clear some areas of trees and vegetation to create a floating access road in the peat. It was crucial for us that we liaised closely with Arboriculturists and Ecologists to work out what trees were required to be moved and to look for any nesting birds. The sensitive nature of this site also meant engaging heavily with SEPA, NatureScot and ecologists to make sure that all wildlife was considered and looked after, with proper management plans put in place. On the site, we had many protected species to deal with from otters and cubs, kingfishers, wild cats, bats, pine martin, brown trout and freshwater mussels.
The project was finalised by demolishing the remaining weir and dam, restoring the hillside drainage system and reinstating the eroded embankment with a variety of imported stones. It was a requirement that the project was to be started by the first week in February and completed by the end of July to allow for the pheasant chicks to be released on the estate ahead of the shooting season. Mackenzie Construction completed the project before the site deadline with the handover to Scottish Water and the Glen Ogil Estate completed on Tuesday 25th July. The completion of this project came with very positive feedback from Scottish Water and Glen Ogil Estate.
"Working in partnership with Scottish Water we were able to quickly assess the potential impacts of the remedial works required. We then developed a plan on how the project could be delivered considering its location, ecology and the needs of the Glen Ogil estate.
There were a few challenges but thanks to the endeavours of Sean, Graham and the rest of the site team, the estate has been left with a solution that blends into the natural local habitat without any negative influence on its operations."
Gary Porter | Contracts Manager