Restoring an iconic Scottish landmark: The Falkirk Wheel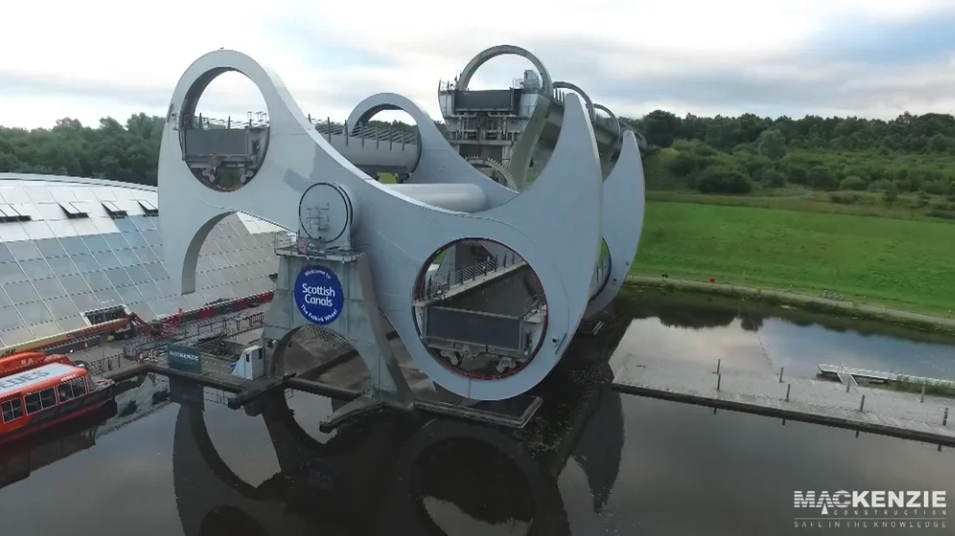 The Falkirk Wheel is the world's first, and only, rotating boat lift, built to connect the Forth & Clyde Canal with the Union Canal in Central Scotland. Opened in 2002 by her Majesty The Queen, the Wheel reconnected the two canals for the first time since the 1930s and has become one of Scotland's most iconic examples of 21st century engineering.
Maintained and operated by Mackenzie Construction's client, Scottish Canals, the Falkirk Wheel has seen more than 5.5 million visitors since it opened 18 years ago. As a Scottish Canals trusted framework supplier, Mackenzie Construction recently carried out painting and coating upgrade works on the Wheel. This was the first time since its inception the Wheel has had been fully re-coated, future-proofing the landmark for at least 15 years.
With over 15,000 bolts and standing at 35 metres high this was no mean feat. With the Wheel exposed to the elements, a specialised three coat application was used, increasing the lifespan of the structure. When inspected upon project completion, the paintwork passed all tests and even exceeded the expected specification.
Working within COVID-19 guidelines, the team was granted close proximity permits by our HSE team to ensure safe practices whilst working on the lifts. The project ran for six weeks throughout July and August, during exceptionally good weather, enabling the project to finish safely and on-time.
Working on the project as Senior Contracts Engineer was Danny Brown, who was recently promoted to Site Agent after joining Mackenzie Construction as a Trainee Engineer seven years ago. He shared his thoughts on the project:
"The project came up in June, so we had to ensure all of the necessary measures were put in place to adhere to the COVID-19 guidelines. We had one week of day shift when the Wheel was offline and then five weeks of working through the night when canal navigation re-opened, where the team worked solidly to get the job finished to a high standard.
"Since completing the job we've had great feedback from Scottish Canals and the public, so it's nice to have played a part in restoring a popular landmark to its former glory."
Gavin Chesney, Contracts Manager at Mackenzie Construction, said:
"Danny and the team's excellent work on the Falkirk Wheel is testament to their capabilities and Danny's recent promotion is well-deserved. Having worked with him throughout since he first joined Mackenzie Construction, it's fantastic to see his hard work, commitment to quality and delivering results for our clients recognised and rewarded."