Ready steady Adventure Show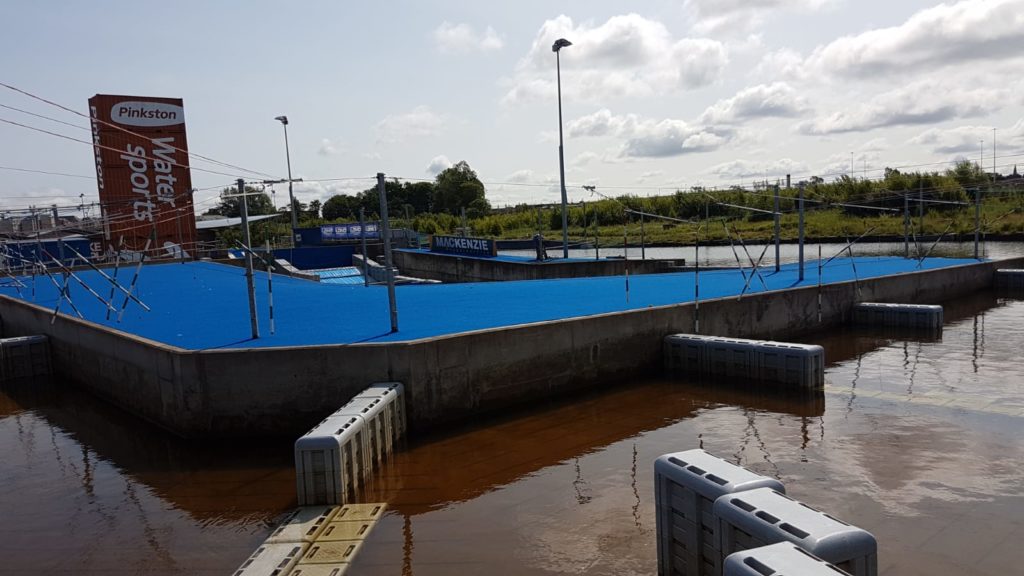 Contracts Director, Mark Wilson, received a call on Wednesday (10 July) afternoon from Scottish Canals, who confirmed they had some challenges with water quality in the main area of Pinkston Paddlesports caused by an issue with their filtration system.
With BBC filming due to take place on Friday afternoon for BBC Scotland's 'Adventure Show', the requirement was to improve water quality in the short time period available. It was agreed that our task was to remove existing stagnant water from the main pool area (approximately. 8000m3) and clean the bottom of the pool.
Mackenzie Construction Site Agent, Kevin Fisher, arranged for resources and pumps to be positioned at the end of the basin and prepare the drawdown, whilst the site team of Shug McGuigan, David Rodden and Joe Baird (who stepped in to help with back shift) and their site operatives commenced the emergency work in the time left available on Wednesday, with the help and support of our supply chain. Full commitment from the team ensured all pumps were set up and drawdown of water commenced on Wednesday evening.
On Thursday morning the it became apparent additional pumps would be required to achieve the lowering of water in the short timeframe, and teams worked tirelessly to get the basin cleaned and prepared for Friday's fiming.
Working late into Thursday evening, teams showcased their dedication to meet the challenge set by our client. Their commitment paid off and they got the green light to refill the basin late on Thursday evening and they set about filling the 8000m3 basin with fresh water drawn down through the canal feeder system from Hillend reservoir, ready for the paddlers to take to the water on Friday.
After testing, the work was proven to have improved the water quality sufficiently for the paddlers to safely use the facilities and for filming to go ahead as planned.
Given the challenging nature of this request, Mackenzie Construction's dedicated personnel exemplified our company values to achieve full client satisfaction, with both Scottish Canals and Pinkston thanking the team on Friday for their hard work and support in getting the site ready in time for filming to begin.
Watch Friday's brilliant episode of Adventure Show from Pinkston Paddlesports.