International Women's Day 2022: beating the bias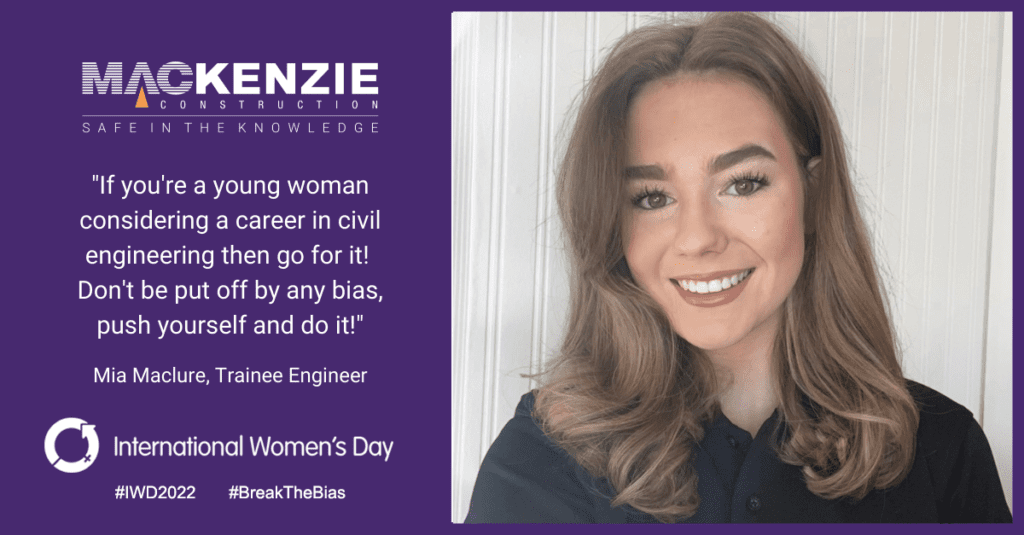 For this year's International Women's Day, we wanted to celebrate one of the young women making strides within our business. Mia Maclure is currently working towards a degree in Construction and Project Management whilst taking on the role of Trainee Engineer at Mackenzie Construction. We spoke with Mia to gain an insight on what it's like to be a young female engineer and how we #beatthebias.
Can you tell me a bit about your role now and what you've been working on recently?
I'm currently studying towards a degree in Construction and Project Management at Glasgow Caledonian University but have been on placement with Mackenzie Construction for the last year working in the role of Trainee Engineer.
I'm site-based and at the moment I'm involved in a lot of the paperwork and material ordering side of things, making sure everything is running to plan on site. I've been lucky to work on a variety of jobs since I started with Mackenzie Construction and on my previous job I was more involved in setting out works and learning to use the instruments that go alongside that.
What initially motivated you towards a career in civil engineering?
I've been interested in architecture and engineering from a young age. Growing up in Glasgow, I was always exposed to big construction and civil engineering sites, and it always interested me how these worked. I initially studied a year in Architecture which I have a HNC in but I decided it wasn't quite right for me and as I was more interested in the construction and project management side of things I decided to take that route. During this degree I became more and more interested in civils so when my placement came up the role at Mackenzie Construction was perfect.
What do you find exciting about working in this industry?
Nothing is ever the same and the variety is what keeps me going. If you ever think you have your day planned out something always changes and that keeps it exciting. Every job I've worked on has been totally different so you're learning so much every day.
It's also exciting to be part of the younger generation within the industry whilst it's going through so much change. We're constantly looking at ways to make things more sustainable and I've been heavily involved in the digitalisation of our sites, moving away from paper and taking things online.
The theme of this year's International Women's Day is 'break the bias', how do you feel that the team at Mackenzie Construction help to break the bias against women in engineering?
I've been really welcomed in my team from the start and my Contracts Manager, Gavin Chesney, has really encouraged me to push the boundaries. Being a female in the industry you do tend to stand out a bit more and you feel a need to push yourself, but all the managers support you to do that. There are also other women in senior engineering and site agent roles at Mackenzie Construction so that's really motivating. Everyone in the business from the management team to the teams on-site encourage you to get involved and I've always been treated equally.
What would you say to other young women considering a career in civil engineering?
Go for it! There's nothing to stop you – don't be put off by any bias, push yourself and do it. It's such a good industry for an exciting career and there's huge growth opportunities where you can have a really successful career.