Collaborative Partnerships: Adding value to the construction industry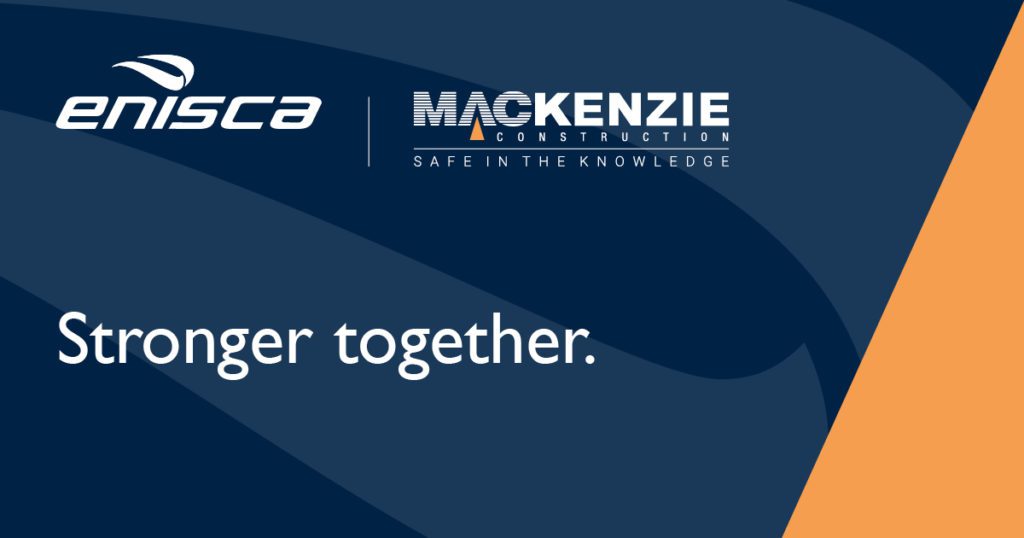 Collaboration in the construction industry has been a recurrent topic of debate and discussion in recent years. Conor King of Enisca and Andy Dalrymple of Mackenzie Construction explain why their recently announced integrated partnership aims to showcase the benefits and solutions which only working together will solve for the industry as we move forward.
By Andy Dalrymple & Conor King
The construction industry is well-known for its often-fragmented nature, partly due to its project-by-project focus, which has several impacts on its ability overall to be efficient, innovative and future-proof.
Construction projects by their nature bring together a broad set of complex skills. They are characterised by multiple stakeholders, large and sometimes widely dispersed supply chains with large delivery teams. These bring together a number of core disciplines including designers, engineers and contractors, who will often be working together for the first time. It is also an industry which has historically been highly competitive in its operation, which can, at best, create opportunity for clients in finding the best suppliers and, at worst, create the conditions for distrust, with no-one wishing to take accountability for delays, overspends or inefficiencies.
Though we understand the nature of the industry's historic lack of cohesion, we believe that there is a brighter future ahead for businesses and teams which can embrace collaboration as the cure to many of these challenges. In our experience, increased and effective collaboration leads to better project outcomes; from more efficient delivery to improved business performance and greater client satisfaction. It creates a culture that drives strong relationships, clear communication, team innovation, skill development and improved solutions to the unexpected challenges that inevitably arise during every project.
Building strong relationships for innovation
It is clear that relationships between the client, design team, engineers, consultants, contractors, subcontractors and operatives can have a substantial impact on the success of any project. However, fraught relationships can lead to underperformance and waste. A lack of strong communication across working teams can result in the loss of innovation as ideas travel down the pipeline. Over time, this whittles away trust across the supply chain and internally, preventing companies from taking on board new learning, best practice or innovations in material use, processes and products. Not only can a failure to work effectively as one team with one common goal put the efficient delivery of projects at risk, it can also mean that innovation and best practice take longer to become embedded across the industry.
Our commitment to innovation through our work together, means that we strive for perfection, embrace continuous improvement and use our resources and experience to drive our progressive delivery approach for our clients. We take the time to build strong, trusted relationships with clear lines of communication and to create regular opportunities to share best practice learning and skills through a number of activities, from our Training Academy to regular Toolbox Talks. We focus on developing our people and building a one-team ethos, to encourage as many innovative ideas and learning opportunities as possible across the whole supply chain.
Embracing digitisation through new technologies such as virtual and augmented reality also offers the opportunity to further improve communication and collaboration between Enisca and Mackenzie Construction. Teamed with mobile technology and virtual reality, our increased focus on digitisation will make it easier for the client, supply chain and team to work effectively together to realise the same end goal.
Net Zero ambition
Collaboration, then, can have a significant impact on the success or otherwise of a project and has the potential, across the board, to increase the sector's productivity. There are also other motivating factors for improving collaboration, including lean construction, agile working and the ever-increasing importance of sustainability and circularity.
Accounting for 5.5% of employment in Scotland and with 50.7% of all waste in Scotland in 2018 attributed to the construction and demolition sector, there is a clear industry-wide focus on the contribution the sector makes to both economic activity and employment in Scotland, and its position at the heart of meeting Scotland's long-term challenge of achieving net-zero emissions of all greenhouse gases by 2045.
At Enisca & Mackenzie Construction, our integrated team is fully committed to reducing the impact we have on our natural environment. The drive to reduce greenhouse gas emissions cannot be achieved as a lone entity, but by working in close collaboration with our staff, clients, partners and our wider supply chain to improve the environmental performance of our products and services. Through our commitment to collaboration, we will look for a significant year on year carbon emission reduction, reaching 75% by 2030 and net zero by 2040.
Our partnership
The whole industry, from local authorities and others commissioning infrastructure, to contractors and the supply chain, must fully commit to collaboration, adopting a growth mindset and moving to more collaborative behaviours. More than this, it also requires clear and consistent leadership from everyone involved. The potential prize is a stronger, more efficient and more resilient industry working better together to deliver for the customer.
Our partnership offers a turnkey civil MEICA design and construction solution partner for our clients and a platform for innovation, best practice and trust across our teams and businesses. With shared values which blend into one exceptional client offering, the partnership looks to formalise shared knowledge, expertise and best practice to continually improve processes and approaches, as one integrated and high performing team.
The synergy between Enisca Ltd and Mackenzie Construction is centred around a commitment to continuous improvement and delivery of client service excellence. From maintaining integrity in relationships, to nurturing talent or delivering high quality work safely and efficiently to ensure the best result for clients, our businesses are aligned, integrated and stronger together.