Celebrating our foundations: 40 years of Mackenzie Construction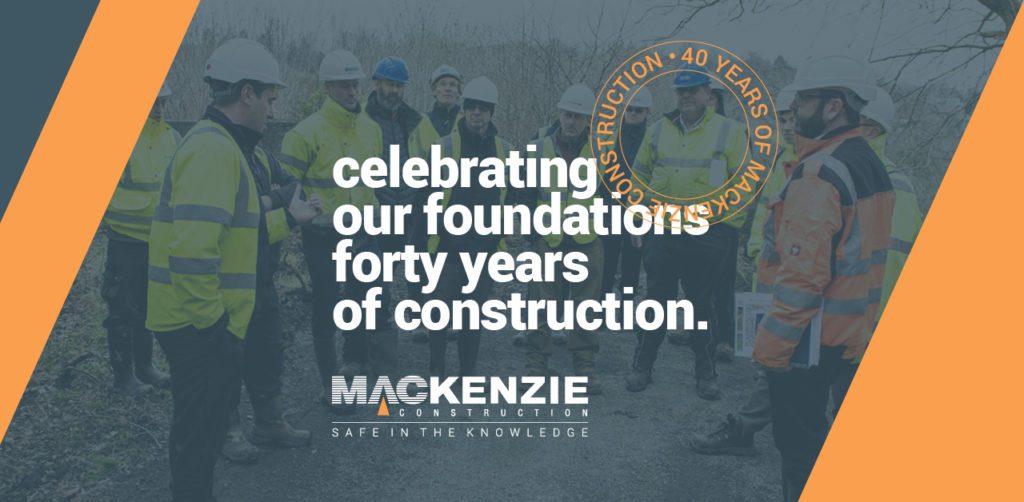 In 2020, Mackenzie Construction will celebrate its 40th year of business. Since 1980, we have been focused on becoming the industry's safest, most trusted and most progressive partner for clients, working at all times to provide certainty of project success in terms of quality and efficiency with safety paramount and core to all decision making.
Mackenzie Construction was founded in 1980, primarily to develop the civil engineering potential in Central Scotland. Since then we have grown to the business we are today with a dedicated team of approximately 300, offices in Glasgow and Inverness, sites across Scotland and plans for further expansion in 2020. Mackenzie Construction places people at the heart of our success. Our professional, highly skilled and engaged workforce and supply chain has helped us to become one of the leading civil engineering and construction firms in the country.
Over the years we have achieved numerous multiple industry awards, accreditations and qualifications that are testament to the safe and progressive contractor we have become renowned for. In 2019 alone we achieved ISO 27001 accreditation, won the Scottish Civil Engineering Award for Heritage and Restoration and were awarded our 11th consecutive gold award at the internationally renowned RoSPA Awards.
To help celebrate our 40th anniversary we are launching a yearlong campaign, 'Celebrating our Foundations', which sets out to highlight the various elements of our business which have helped build and drive our success to date. With key themes such as employee engagement, our young people, business growth, safe working practices, innovation and our sponsorship of the Glasgow Warriors, we will be organising a number of events and activities around these. With the recent appointment of our People Ambassador, Scott Meenagh, we are looking forward to his involvement in our 40th celebrations and building on engagement from Scott's previous visits with Mackenzie Construction.
We are proud to be an active and supportive partner of local communities and are committed to making a positive impact on the areas where we live and work. Through our community improvement work, fundraising for our nominated annual charity and support of local causes such as the Currie Chieftains youth tournament, Rainbow House and Glasgow's Spirit of Christmas we will continue our community benefit pledge into 2020 and beyond. After supporting Chris's House as our nominated charity throughout 2019 we are delighted to announce we will be supporting the "My Name'5 Doddie Foundation" in 2020 which raises funds to aid research into Motor Neuron Disease.
Managing Director, Andy Dalrymple, said of the campaign:
"I am delighted that we will be celebrating our 40th year with a dedicated campaign which will highlight our fantastic culture and our commitment to our clients, staff, supply chain and the communities in which we live and work."
After a fantastic 2019 we cannot wait for our 'Celebrating our Foundations' campaign to get under way. Make sure and follow Mackenzie Construction on Facebook, LinkedIn and Twitter to stay up-to-date with our 40th events and activities.