Building a colourful legacy for Rainbow House with Glasgow Warriors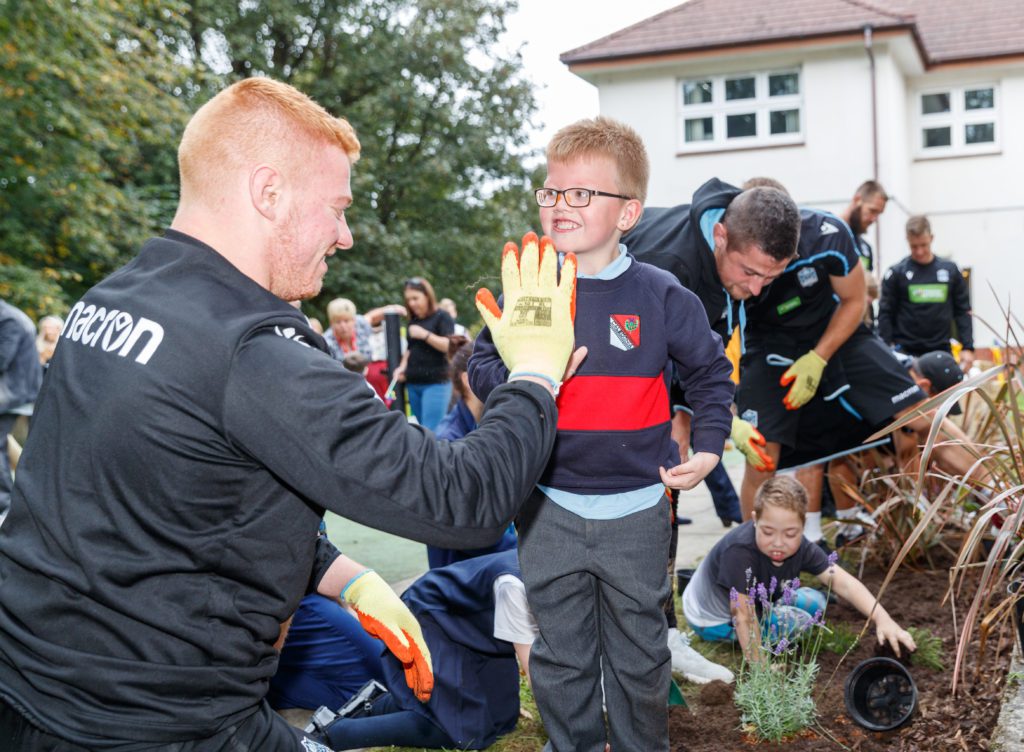 Mackenzie Construction was delighted to complete a community support children's garden project this week (Monday 16 Sept), supported by the Glasgow Warriors at Rainbow House in Ayrshire Central Hospital.
Rainbow House provides invaluable Occupational Therapy services and support to children and their families helping them develop, thrive and reach their full potential. Working closely with NHS Ayrshire, Crosshouse Children's Fund and staff at Rainbow House, Mackenzie Construction developed and built a sensory garden and play area as part of its on-going commitment to giving back to the local areas and communities in which it operates.
As official Civil Engineering Sponsor of the Glasgow Warriors, Mackenzie invited 16 Warriors players to help complete the garden with some final touches and officially open it with some of the children who visit Rainbow House. As part of the opening ceremony, the youngsters were given the opportunity to be the first to sample all the donated play equipment and the Glasgow Warriors spent the afternoon playing and engaging with the children and their families.
Glasgow Warriors, Managing Director, Nathan Bombrys, said: "This is a brilliant community initiative by Mackenzie Construction, and it was great that our players had the opportunity to be involved.
"Their work with Rainbow House is extremely inspiring and we're looking forward to working closely with them on similar initiatives throughout the season."
Speaking at the launch, Andy Dalrymple, Managing Director of Mackenzie Construction, said:
"Mackenzie Construction is always looking for ways to add value to the communities in which we live and work. This project at Rainbow House has been a brilliant way to work together with NHS and the Glasgow Warriors to make a difference to the families we met today in Ayrshire, and hopefully raise the spirits of many other children attending Rainbow House over the coming years."