A collaborative effort: responding to the Union Canal breach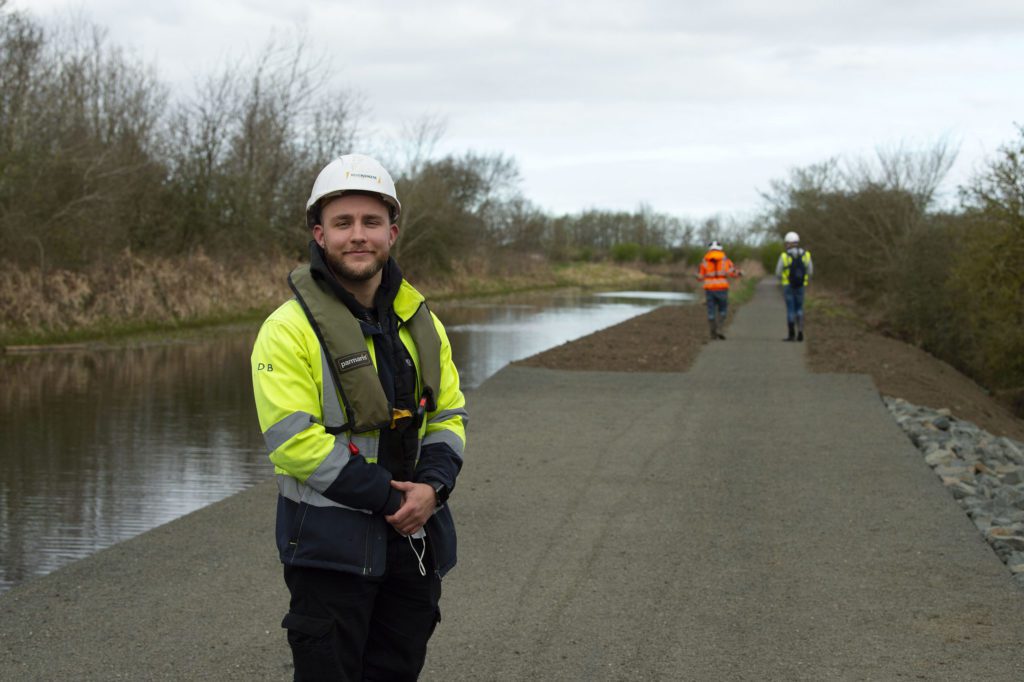 Following a once in 240-year flash flooding event last August, Mackenzie Construction was contracted to emergency works at the site of an embankment breach on the Union Canal, near Muiravonside. The scale of the breach resulted in a 30m wide gap and a loss of around 75,000m3 from the canal. Once the emergency dams were put in place and the water flow stopped, the priority was to establish a safe site for the embankment repair and a programme of resilience works to futureproof the 200-year-old Union Canal against future climate change events. This involved the installation of a 600m long haul road to the remote breach location.  
The first step of the repair and refurbishment works was to work with our design subcontractors to establish the cause of the breach and enable the development of an effective geotechnical and structural design that will strengthen and protect the canal, a listed structure, for years to come. This involved the installation of new weirs, culvert clearing and lining and lock stock improvements to create embankment resilience. As well as this, Smart Canal technology is being installed at 16 sites along the Union Canal involving weather sensors for water level management and automate the draining of the canal when heavy rainfall is anticipated.  
The canal network usually shuts down over winter for general upgrading works with a spring reopening date so there were time pressures on the project for the canal to be rewatered by early March. A collaborative relationship between the Mackenzie Construction team, our client Scottish Canals and our subcontractors facilitated clear lines of communication and a quick turnaround from the initial emergency works into a full refurbishment programme and canal reopening.  
Danny Brown, Site Agent on the project said: 
"We've never seen a canal breach to this scale, so a huge effort was made by all teams, from the initial emergency response to stem the water flow and protect the surrounding areas right through to the repair and resilience works and canal rewatering. We hope to never see a breach to this scale again but if we do, we'll be ready for it!"