Mackenzie Warriors 2020: Celebrating our team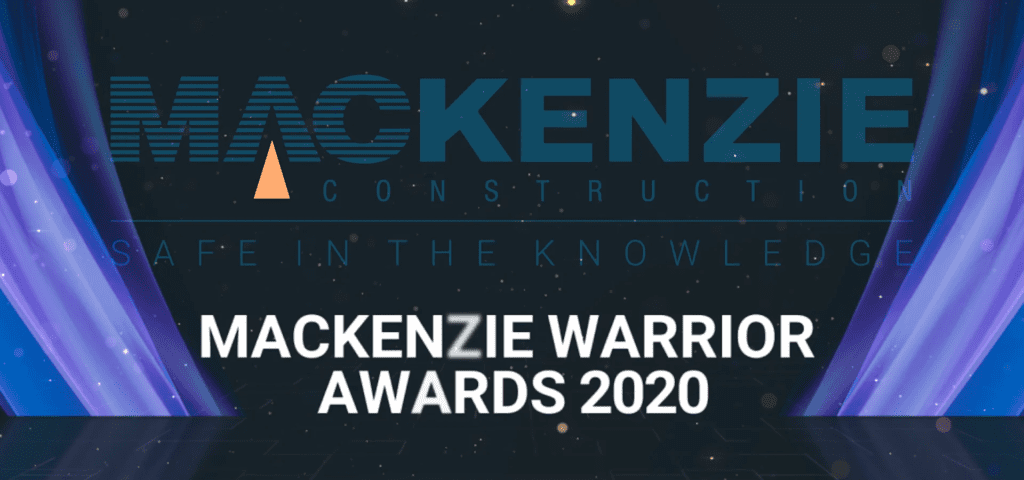 In 2020, Mackenzie Construction celebrates its 40th year and its team have continued to find ways to shine, despite the many unforeseen challenges of Covid-19.
Though we were unable to hold our annual team training day, we wanted to ensure we continued to recognise the successes of our team through our 'Mackenzie Warriors' awards – an annual event which looks to celebrate individuals and teams who have gone the extra mile.
As the official Civil Engineering sponsor of the Glasgow Warriors, players Ratu Tagive, Kiran Macdonald and Sean Kennedy were also on hand to give each of our winners a message of congratulations.
The Mackenzie Warriors 2020
Warrior 1: Lisa Simpson. Office Administrator, Lisa, has won this Mackenzie Warriors Award for her dedication to excellent management of Mackenzie Construction's fleet of vans and vehicles throughout Covid-19.
Warrior 2: Sarah Chalmers. Assistant Valuations Manager, Sarah, has continued to provide invaluable support to the finance team, working to ensure valuations and payment processing continued seamlessly for the business.
Warrior 3:  Kevin Houston. Senior Contracts Engineer, Kevin, has won a Mackenzie Warriors Award for his dedication to delivering consistently high standards across all sites he has been working on, throughout the Covid-19 pandemic.
Warrior 4: David Shannon. Foreman David Shannon's Mackenzie Warrior Award is in recognition of his dedication to consistently ensuring his tasks on site are completed to the highest standards of quality.
Warrior 5: Mark Keegan. This year, Mark not only delivered brilliantly within his role as Foreman, he also took on a new position as a Trainer at the Mackenzie Construction Training Academy.
Warrior 6: Clair Ferguson. Accounts Assistant, Clair, was able to miraculously move Mackenzie's purchase ledgers to a paperless system overnight and has exemplified Mackenzie Construction's commitment to continuous improvement through her regular and detailed reviews of its internal processes and procedures.
Warrior 7: Elaine Allan. Accounts Assistant, Elaine, has won a Mackenzie Warriors Award for her part in moving its payroll function to a paperless system overnight and taking on additional responsibility in adding credit control to her remit throughout lockdown.
Warrior 8: Syzmon Pszsny. Having started with Mackenzie Construction in July 2019 as Foreman, Szymon has excelled on site throughout 2020, taking on a superb range of diverse activities in line with evolving industry best practice, with a meticulous attention to detail.
Warrior 9: Alison Irwin. Next up, Quality and IT Coordinator, Alison Irwin! A long serving and experienced member of the Mackenzie Construction team, Alison has worked tirelessly to facilitate and deliver agile working processes as we pivoted to work from home in lockdown.
Warrior 10: Jamie Hislop. Throughout 2020, Contracts Engineer, Jamie, has successfully taken ownership of a key project for Mackenzie Construction which involved working independently to drive progress using his own initiative, in order to plan and organise surveys and contracts in ultra-rural locations, despite Covid-19 conditions.
Warrior 11: Nina Devaney. HR Administrator Nina stepped up to become the Chairperson of the Health and Wellbeing Committee to ensure all staff can continue working closely together as one team, remotely.
Warrior 12: Raymond Bennett. Working as part of our estimating team, Raymond has excelled throughout this year and has managed to maintain exceptionally high standards in his tender submissions despite the many challenges of working remotely.
Warrior 13: Lauren Docherty. Working as a Quantity Surveyor at Mackenzie Construction since July 2019, Lauren has expertly managed and maintained complete commercial control of a vital programme of work delivered on behalf of a key client.
Warrior 14: Joe Thomson. Mackenzie Construction's Foreman, Joe, has been nominated by the team for his consistent delivery of high standards of work and safety on site, despite the many additional requirements of working throughout Covid-19.
Warrior 15: Aron Adrain. As Trainee Site Engineer, Aron's excellent attitude and consistently high standards have contributed to his exceptional rate of development. Having started at Mackenzie Construction in June 2019, in this time he has worked with and impressed no less than three Contracts Managers so far!
A huge thank you to all of our employees for your work this year – people are at the heart of all that Mackenzie Construction does and we look forward to welcoming you back in 2021.