Mackenzie Construction welcomes visit from Scotland's Business Minister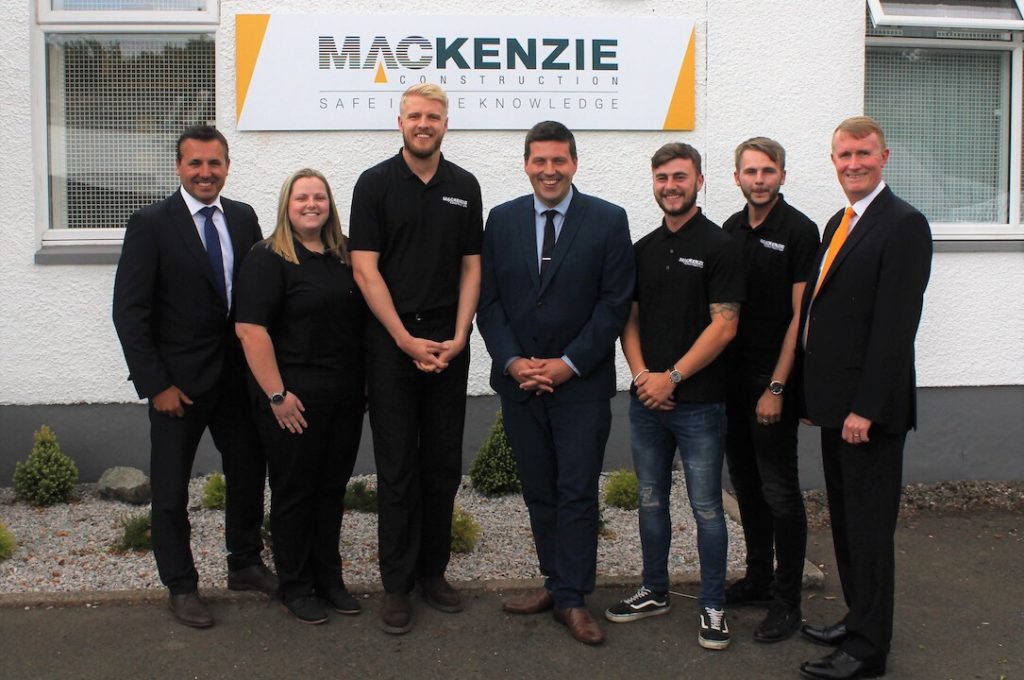 Mackenzie Construction welcomes visit from Scotland's Business Minister | Mackenzie Construction, welcomed the Minister for Business, Fair Work and Skills this week to showcase its on-going development of a world-class training hub for employees.
Based in Glasgow and Inverness, and operating across Scotland, Mackenzie Construction designs and constructs infrastructure and assets for public and private sector clients. The company's focus is on providing certainty of project success, in terms of quality and efficiency, and ensuring that all projects are delivered with integrity and safety at the forefront for everyone involved.
During the visit from Jamie Hepburn MSP, the civil engineering and structural repairs contractor offered an insight into its development of leading business practices and its commitment to innovation to ensure the company continues to achieve sustainable growth.
Andy Dalrymple, Managing Director of Mackenzie Construction, showcased the firm's progress in developing a high quality training and development environment for staff and progressing towards key business objectives including skills development, the Scottish Business Pledge and youth employment.
He said: "We were delighted to welcome the Minister to our head office and we greatly appreciate the time taken to engage with us.
"We have built a highly motivated, loyal and expert team who constantly strive to deliver safe, high quality and cost effective innovations and projects as well as a keen focus on developing skills and careers with Mackenzie Construction. Our young staff enjoyed their time with the Minister, who put them all at ease and showed a genuine interest in hearing their stories and experiences, which very much impressed us.
"It was fantastic to be able to highlight Mackenzie Construction's broad range of expertise and showcase current opportunities and challenges within our sector as well as explain our approach in addressing them for the future of the industry."
Some of the team's youngest members met and spoke with the Minister. Kristina King, Ross Good, Kerr McGuigan and Andrew Ogilvie were chosen to meet with and discuss their experiences, skills and career aspirations as part of the day.
Jamie Hepburn MSP, the Minister for Business, Fair Work and Skills, said: "Construction is a vitally important sector to the Scottish economy and Mackenzie plays an important role in supporting that sector and the Scottish economy.
"I want to thank Andy Dalrymple and his team for taking the time to showcase the innovative approach they are taking to build a world class training and development environment.
"The Scottish Government will continue to support employers like Mackenzie to invest in skills and training to meet the changing needs of employers, the workforce, young people and Scotland's economy."