Mackenzie Construction strengthens net zero offering with University of Strathclyde partnership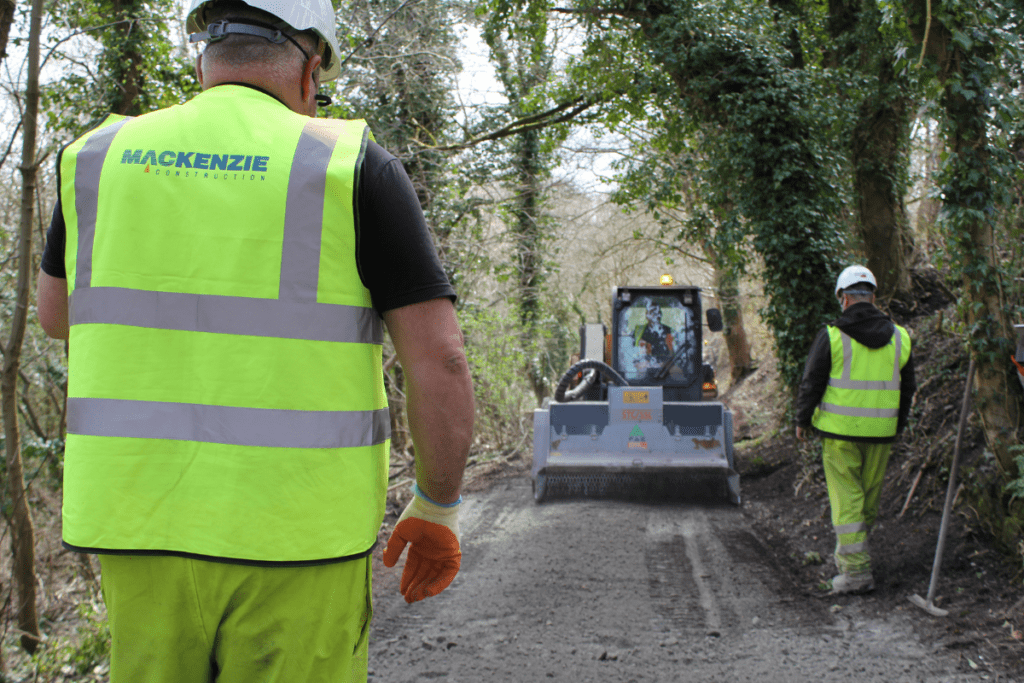 Mackenzie Construction has successfully been awarded funding from Innovate UK for a Knowledge Transfer Partnership project with the University of Strathclyde to further test and develop its sustainable surfacing offering, Smart Surface™️, and align with our client's net zero targets.
Knowledge Transfer Partnerships (KTPs) is Europe's leading programme helping businesses to improve their competitiveness by enabling companies to work with higher education or research and technology organisations to obtain knowledge, technology or skills which they consider to be of strategic competitive importance. The UK-wide programme is overseen by Innovate UK, the UK's innovation agency, and supported by 16 other public sector funding organisations.
Mackenzie Construction launched Smart Surface in 2018 as the conversation around net zero and driving down carbon emissions in the civil engineering sector gained traction. Smart Surface is a proven, fast and innovative binding solution that delivers an efficient and sustainable option for surfacing by stabilising existing ground conditions to create or repair paths, roads and hard standings. Where sufficient material exists on site it is possible to have zero importation of aggregates and zero off-site disposal of waste which greatly reduces the environmental footprint of projects and contributes to the circular economy and net zero targets. The service also delivers a range of other benefits for our clients such as enhanced productivity, lower costs and stronger community relationships through reduced disruption and lower environmental impact.
Mackenzie Construction has extensively trialled its Smart Surface service with clients across sectors including Scottish Water and Scottish Canals. However, in order to further test and grow the offering, the business identified a need to enhance its capabilities in geomechanics and characterise and validate the performance of its binder product across a range of environmental profiles, to support development of a versatile, sustainable, road surfacing solution.
Having been made aware of the KTP scheme, the business then met with academics from a number of leading universities to discuss the potential partnership and their relevant skillsets. Through this process, Mackenzie Construction was introduced to Dr Matteo Pedrotti and Professor Alessandro Tarantino, based within the Department of Civil and Environmental Engineering at the University of Strathclyde. It was concluded that their respective areas of expertise presented an opportunity to expand the current understanding on the use of soil binders to reinforce marginal soils, while supporting contribution to the development of low carbon climate-resilient road surface solutions.
The KTP application was then developed between Mackenzie Construction and the University of Strathclyde to build a case for the project and the full-time employment of a specialist KTP associate who will be based within Mackenzie Construction, working in partnership with our Smart Surface Manager, Conor Boyle and under the supervision of Contracts Director, Mark Wilson with supported from Dr Matteo Pedrotti and Professor Alessandro Tarantino. Having been successful with the funding application in April 2021, the focus will now be on recruiting the KTP associate and setting out the road map for the project.
The KTP will embed valuable capability in geomechanics and hydromechanics to test and capture the performance characteristics of our binder under a range of environmental and loading conditions, both in laboratory and field environments. This will generate robust evidence to demonstrate the performance and benefits of Smart Surface, across a range of environmental profiles.
Andy Dalrymple, Managing Director at Mackenzie Construction said:
"Ultimately, our goal is to support our clients with their net zero targets by implementing sustainable practices and developing environmentally friendly services that facilitate carbon reduction. The KTP will enable us to offer our clients a more sustainable and circular surfacing solution and a progressive service resulting in greater reduction in costs, project timings, carbon outputs and environmental impact."
Matteo Pedrotti, Chancellor's Fellow at the University of Strathclyde added:
"Our research group has been investing significantly towards the development of low-carbon design in geotechnical engineering via a range of novel bio-chemical technologies. We were excited to learn about the concept of Smart Surface from Mackenzie Construction and are looking forward to contributing towards its further development. Our research thrives on the synergy between Industry and Academia and this project will allow our research to make a tangible impact in today's society."