Mackenzie Construction launches Young Person's Committee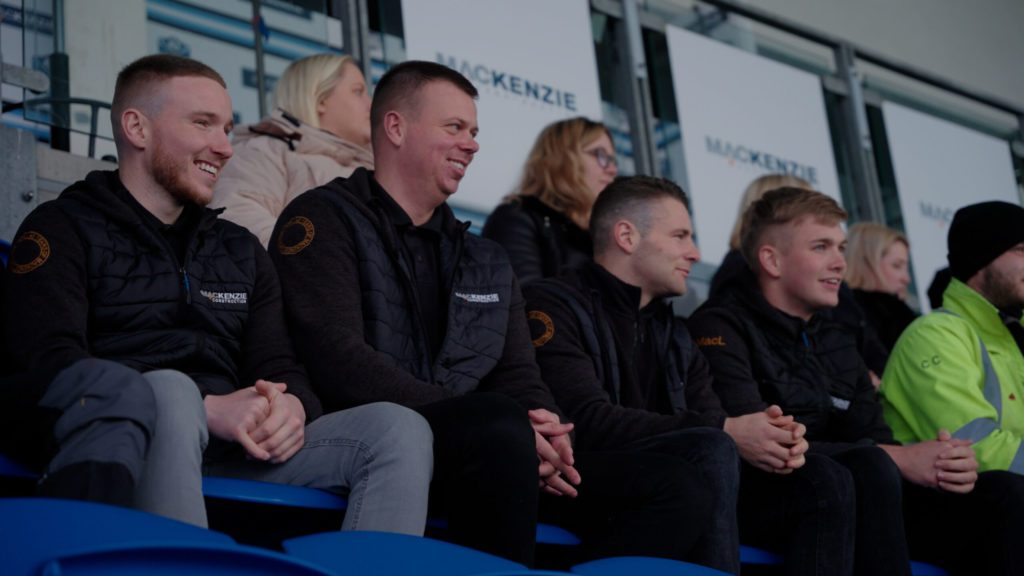 Mackenzie Construction has long been invested in the development and growth of young talent and is committed to training and promotion from within. An important part of the development of our young people is ensuring they feel valued and heard within the business. Having struggled to bring groups together over the course of the pandemic, earlier this year we renewed our focus on keeping our young people engaged.
In March 2022, a two-part event series kicked off at the Glasgow Warriors' Scotstoun Stadium where our young people were brought together for the first time in two years, many of them meeting each other for the first time. Over the course of the session there were group discussions with some of our leadership team leading conversations around career growth and what advice should be given to young people starting out in the business.
The group then watched a training session from the Glasgow Warriors ahead of their 1872 cup game against Edinburgh Rugby which was then followed by Q&A sessions with Assistant Coach, Pete Murchie and Co-captain, Ryan Wilson. Our relationship with the Glasgow Warriors as their Official Civil Engineering Partner is a valuable part of our culture so it was important for our young people to get to know the club better and understand how our values align.
Briony Coyle, Site Engineer shared,
"From the event with the Warriors I can understand why we are partners with the club. We try to be as much like a family as possible and it was good to hear how the Warriors prepare as a team and how they deal with the wins and losses which was very much in alignment with us."
The second event was held in April at the Busby Hotel where we were joined by our People Ambassador and Paralympic Nordic Skier, Scott Meenagh and Amy McDonald from Headtorch, who covered a range of topics such as motivation, workplace wellbeing and mental resilience to help our young people gain confidence and clarity on their careers. Our young people were then split into groups to further discuss the various pieces of advice that had been collated from the group sessions at Scotstoun. The pieces of advice were categorised into five themes and from this, the SPARK acronym was developed.
SPEAK OUT | I'm not afraid to speak out if there's something I want to raise
PASSION | I channel my passion for my work and the industry into every task
ASK QUESTIONS | I ask questions across the business and know there is no such thing as a silly question
RESPECT | I show respect for my colleagues, our clients and our partners
KNOWLEDGE & LEARNING | I am committed to expanding my knowledge and learning so that I can continue to grow in my role and support the business
Following on from the events, Mackenzie Construction has formally launched its 'Young Person's Committee' to facilitate further collaborative events and strengthen communication between our young people and senior leadership team. The SPARK acronym will act as a guide for our young people and new people joining the business. We know our young people are the future of our business and we want to ensure that they are listened to and feel heard, so that ultimately, we provide the best possible environment for them to develop and grow their careers.
Kyle MacLean, Trainee Engineer, shared,
"We're told that we are the future of the business and you actually see this in action when people you work with are regularly moving up through the business. This is the best motivation we could have as there's people leading the business that have been in our shoes, so you know that if you work hard the business is committed to progressing you."
Briony and Kyle have been involved in sharing the principles behind the Young Person's Committee with the wider business and have been putting processes in place like an email inbox that will help with the sharing of information and advice.
Briony shared,
"We hope that the committee will help to bring our group of young people together both in formal and informal settings so that we can better support each other and welcome new starts. It's also a good forum for us to discuss any issues, share advice and look out for each other at this early stage of our career."