Mackenzie Construction Benefit from Management & Leadership Programme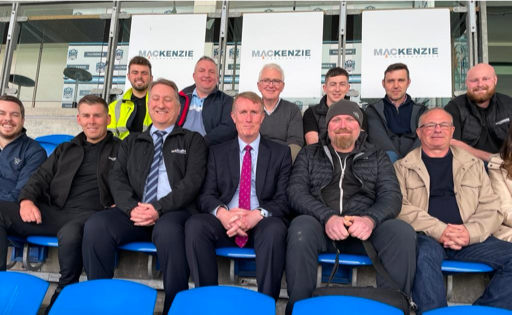 Mackenzie Construction's Senior Contracts Engineers and Site Managers recently undertook a Management and Leadership Programme. The programme is designed to help develop management and leadership skills to help Mackenzie Construction employees in their current roles and as they progress in their careers.
The programme ran as six one-day sessions spread over the period of six weeks, with each session covering a different topic, and the final session being held at Scotstoun Stadium, Glasgow. In the final session, attendees shared a presentation on their reflections from the course and how they will utilise their new skills gained within their respective roles, and within the business.
Prior to the workshop, Mackenzie Construction participants completed the Insights Discovery personality profile to allow some wider understanding of the participant's leadership style and helped to identify their preferred approach in leadership situations and provided them with a guide on interacting effectively. This task brought awareness to different personality types and showcased how best to work alongside particular personalities to be more effective in the workplace. Allowing Mackenzie Construction staff to better understand their strengths, weaknesses, and potential developmental areas.
The Management and Leadership programme put a large focus on being highly interactive in group workshops, including group discussions, presentations, interactive exercises, and guest speakers. The aim of these group workshops is to encourage better leadership thinking and sustaining leadership effectiveness. These workshops covered topics such as leadership impact, personal effectiveness, communication and influencing, getting the most from your people and dealing with difficult situations.
The programme also included two 1-2-1 coaching sessions for each person attending the course. The first session focused on thinking about career ambitions and implications for development. The second coaching session, delivered after the programme, helped identify a series of relevant learning and development activities to grow the employee's own capabilities in line with what Mackenzie Construction requires of people in more senior roles.
'A big thank you goes out to Graeme Crombie from Matrix Consulting for delivering such a fantastic leadership & management programme to the Mackenzie Construction team. We are always striving for continuous improvement and investing strongly in our people through training and personal development, aiding current roles and allowing for career progression.'
Andy Dalrymple | Managing Director