Introducing our new People Ambassador: Scott Meenagh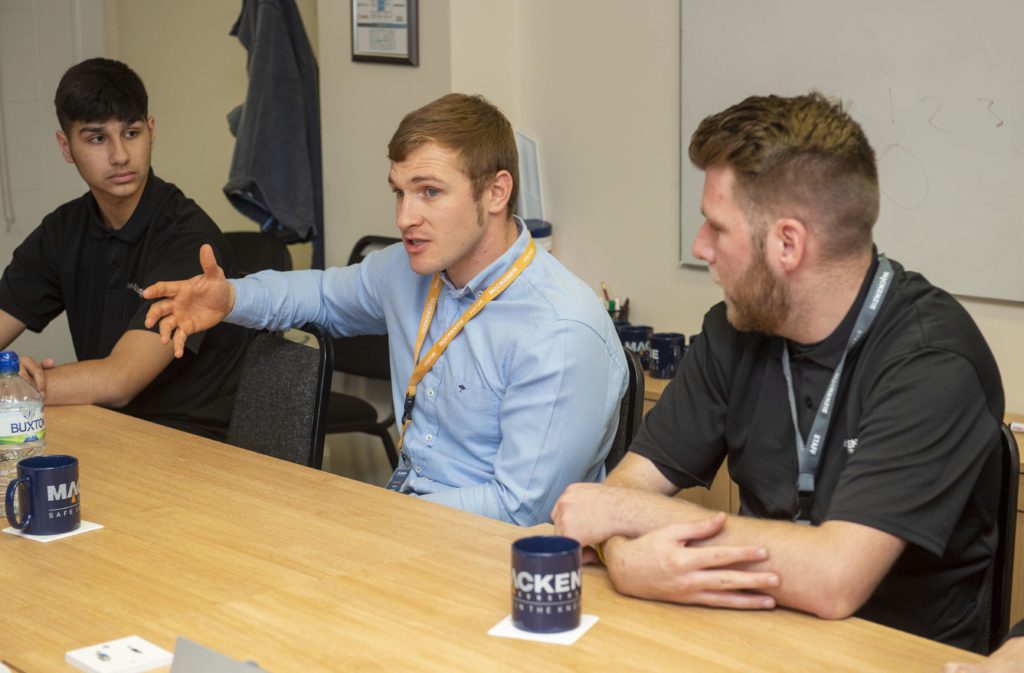 As part of our commitment to our people and creating an empowering, supportive and collaborative cultural environment we are delighted to introduce our new People Ambassador, Scott Meenagh, who will be helping drive engagement across the entire Mackenzie Construction team.
Scott is a GB Para Nordic skier who competed at the 2018 Winter Paralympic Games as the first competitor ParalympicsGB has had in Nordic Skiing for 20 years. He has a proud military background, as one of few to graduate into the 2nd Battalion Parachute Regiment. When Scott was 21 serving in Afghanistan's Helmand Province, he stepped on an IED and lost both his legs.
Inspired by sport, Scott learned to walk again on prosthetic legs and has participated in a host of awe-inspiring challenges; hand cycling 350 miles across battlefields in France, winning medals at the renowned Warrior Games and climbing Ben Nevis amongst others. After captaining the British Army team at the Invictus Games in 2014, he was invited to join the GB Paralympic Rowing Team. He also captained the Scotland senior rowing team to the Home International Regatta and on to only their second win in 15 years.
Scott then switched to Para Nordic Skiing and gained selection to the 2018 Winter Paralympic Games in South Korea. Most recently Scott has achieved three top ten finishes at the World Para Nordic Skiing Championships and is currently focused on qualifying for the next Winter Paralympics in Beijing in 2022.
The Mackenzie Construction team was first inspired by Scott earlier this year when he was one of the speakers at our foreman training course which was aimed at empowering our experienced team and equipping them with the appropriate tools and techniques to coach and mentor our young people. Since then, we've been keen to collaborate with Scott on more of our engagement activities and so the role of People Ambassador will ensure we can utilise his skills and experience effectively.
In November we had a fantastic day introducing Scott to the team, with him leading sessions on topics such as "dealing with change" and "achieving your best" as well as making a visit to our site team working on the Garscube Pedestrian Bridge at Glasgow's Clay Pits Local Nature Reserve.
In the "dealing with change" session Scott highlighted how he has had to adapt to change both in training and in his personal life and the "achieving your best" session took place with our young people. Scott shared his advice with the group. Recalling the beginning of his army days where he spoke about learning a lot from his superiors, Scott advised the group to use the experience of older staff members to learn and develop.
The day closed with a site visit with the team at the Clay Pits. The site team discussed health and safety with Scott highlighting the importance of processes in ensuring a safe working environment. With a current focus on mental health and wellbeing at Mackenzie Construction, the group had an interesting discussion on maintaining a positive mindset and methods to change your way of thinking if you are feeling down or negative.
HSE Advisor, Ryan Taggart, said of the site visit:
"Scott really engaged the group, which created positive discussions about our company, our culture and why we love working here. Going forward, I think Scott's role as People Ambassador will be a great way of building morale across the whole Mackenzie team."
There was great feedback from the day with the team commenting on Scott's honest and down-to-earth approach. His advice on how to deal with difficult situations at work was relatable, inspiring and everyone is looking forward to further interactions with Scott as part of his role as People Ambassador.