Integrated Industry Partnership: Interview with Andy Dalrymple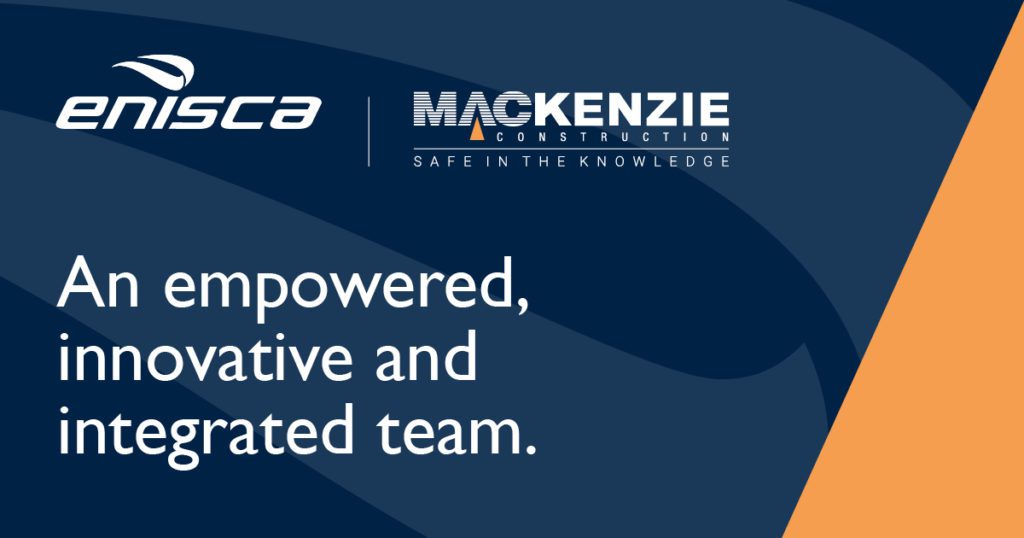 Having recently announced our integrated industry partnership with Enisca, we caught up with our Managing Director, Andy Dalrymple, to hear his thoughts on our exciting news.
1. Tell us about the partnership between Mackenzie Construction and Enisca Ltd – what made you decide to form the partnership?
"I value the range of similarities between both businesses, from our vision and values to our client relationships. The way that Enisca operates is very similar to Mackenzie Construction and they have worked hard to build a reputation for integrity.
Having known Conor King since 2015, we have always gotten on personally – we trust the way both he, and Enisca, go about things and believe that our partnership creates a strong service offering for our clients which is unlike anything else in the market at the moment."
2. What can your clients expect from this partnership?
"There are lots of benefits for our clients from this partnership, though the biggest one is simply an aligned, integrated team with a one stop shop which brings together Enisca's vast in-house MEICA expertise, complementing our 40 years of Civil Engineering experience.
With a clear focus on safety, customer needs, and project delivery efficiency, the offering supports a shared key objective of ensuring long term customer satisfaction. Our collective knowledge allows us to mutually support one another in the growth and development of both businesses and create some exciting opportunities for our clients."
3. What synergies are there between Mackenzie Construction and Enisca Ltd?
"When we were developing our partnership, I was delighted by how aligned both sets of values are. We created a set of shared values for our partnership and were able to dovetail these really simply – we both have high expectations of our team in terms of safety, integrity, innovation, quality and being invested. Having visited Enisca at their offices over the years, I felt very at ease with the people and atmosphere as their culture is so much like our own."
4. What does the partnership offer to your team?
"From upskilling our team in specific sectors to exploring the different ways we manage and deliver projects or even how we cultivate our talent, there are many opportunities for our teams to learn new skills and ways of working. Within the partnership, we continually strive to build a relationship that provides growth, fosters innovation and creates development and experience across our team, driving us all to be even better tomorrow than we were today."
5. What are your focus areas for this partnership moving forward?
"Together, our integrated team is fully committed to reducing the impact we have on our natural environment. As we move forward together, we will look for a significant year on year carbon emission reduction, aiming to reach 75% by 2030 and net zero by 2040.
Additionally, digitalisation is a big focus for us at the moment and we're building our in-house capacity to support our integrated team to progress our digital skills and capabilities. The fresh energy and creativity that working together brings, allows for greater innovation and understanding of both of our specialisms across the board. For example, we're able to offer greater understanding of how MEICA and Civils works interface on our sites, sharing knowledge around all aspects of this, from project conception through to, and including, commissioning."
6. What added value do you see this partnership offering to your clients?
"Through our integrated partnership we are able to create a more rounded offering for our clients. With our turnkey solution, we can get involved at an earlier stage in projects and bring greater efficiencies to our processes and projects through enhanced knowledge. Our partnership integrates new capabilities to our shared client base and supply chain in the water sector and beyond. Together, Mackenzie Construction and Enisca will foster new and innovative working practices to affect positive change across the industry."