Integrated Industry Partners: Interview with Conor King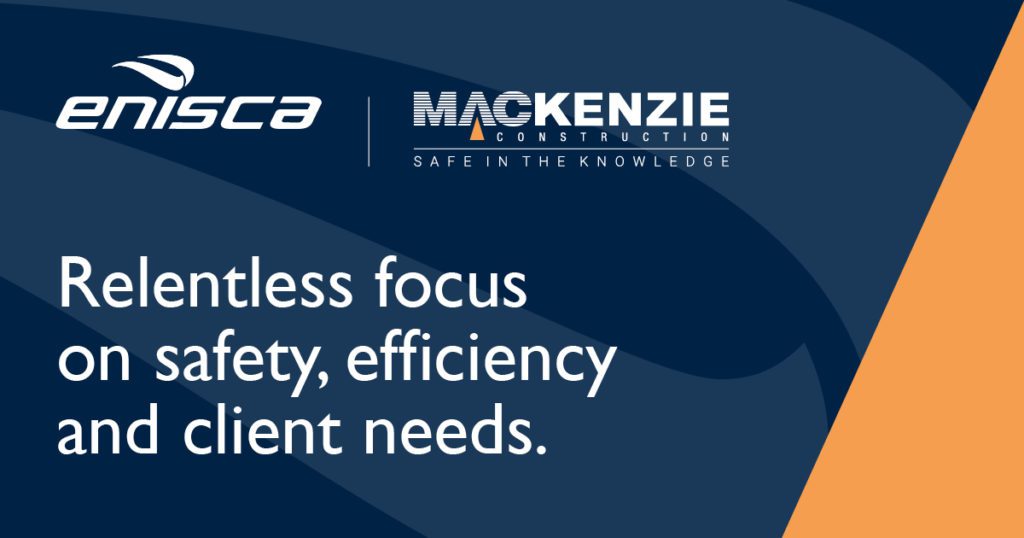 Having recently announced their integrated industry partnership, we caught up with Conor King – Managing Director of Enisca Ltd – to find out more about this exciting news.
Tell us about the partnership between Mackenzie Construction and Enisca Ltd and how it began
"The relationship between Enisca and Mackenzie Construction began in 2015. Though the joint bid we developed at the time, alongside another company who is no longer in business, wasn't to be, Andy and myself have kept in touch ever since. Over the years we've built a really strong relationship and have remained keen to find ways that we could develop a partnership which adds value to our businesses, clients and the wider industry.
We realise that the synergy between Enisca and Mackenzie Construction is a big opportunity and the collective offering we can give to our clients is really exciting, with complementary skills and services, as well as a shared ethos in the way we operate and focus on developing our people."
What can your clients expect from this partnership?
"By far the best thing about this partnership for our clients is that the whole of our collective offering is greater than the sum of its parts. Not only do our services complement one another, with Mackenzie's civil engineering experience alongside our MEICA capabilities creating a complete turnkey solution, we can also each benefit from one another's processes, experience, people and relationships.
Additionally, our integrated team is fully committed to reducing the impact we have on our natural environment. We understand the drive to reduce greenhouse gas emissions cannot be achieved as a lone entity, but by working in close collaboration to improve the environmental performance of our products and services. As we move forward together, we will look for a significant year on year carbon emission reduction, reaching 75% by 2030 and net zero by 2040."
What synergies are there between Mackenzie Construction and Enisca Ltd?
"We're likeminded people and we have a similar management style and set-up, with approaches to both our client relationships and the way we build and deliver our projects.
At both Enisca and Mackenzie Construction, our people are the most important asset and the culture we cultivate is open, friendly and fair. We invest in the development and careful management of skills and expertise across our team and supply chain to offer a safe and innovative environment for those we work with and for."
What does the partnership offer to your teams?
"With Enisca and Mackenzie co-locating in Glasgow, our teams can expect to learn, innovate and grow together. We will continually strive to build a partnership that provides growth, fosters innovation and creates development opportunities across our team, driving us all to be even better tomorrow than we were today. We want our team to feel part of something bigger, as one team who are clear on their roles, contributions and added value to our clients."
What are your focus areas for this partnership moving forward?
"First and foremost, we are both relationship contractors, working hard to build authentic and trusted relationships with our clients. Moving forwards, our key focus is on offering a long-term partnership solution which offers continuity of service to our clients in the water industry, and beyond.
With shared values which seamlessly blend into one offering, the partnership looks to formalise shared knowledge, expertise and best practice to continually improve processes and approaches, as one integrated and high performing team."
What added value do you see this partnership offering to your clients?
"The fact that our partnership offers a single point of access to a turnkey solution which covers a broad range of specialist services.  From Enisca's MEICA, MCC and DfMA capabilities to Mackenzie's Civil Engineering, we have our client needs covered.
In addition, we both have an established approach to developing relationships within the industry and work hard to maintain long- term client and strategic partner relationships based on mutual respect, honesty and trust. Our clear focus on safety, customer needs, and project delivery efficiency, supports their key objective of ensuring long-term customer satisfaction."
Find our more about our integrated industry partnership and what it can deliver for our clients.