Inside our apprenticeships with Robbie Coleman and Daniel Brown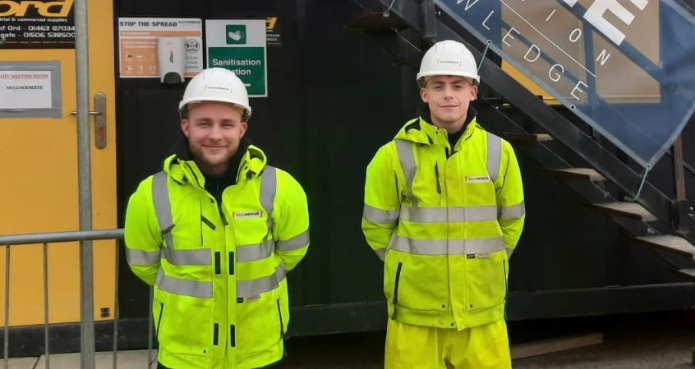 People excellence is one of our key brand pillars and as part of this, developing our young talent and growing their careers within the business has long been a priority. We are committed to promotion from within and ensuring all of our young apprentices have the opportunity to fulfil their potential. 
To celebrate Scottish Apprenticeship Week, we spoke with Trainee Engineer and our 'Young Person of the Year', Robbie Coleman and one of his mentors, Site Agent, and former Trainee Engineer, Daniel Brown to gain an insight into what it's like being an apprentice at Mackenzie Construction. 
The route to trainee engineer 
Robbie first considered a career in civil engineering whilst still at school but at the time believed university was the only route for this career which he didn't feel was right for him. After school, he opted to join the Merchant Navy instead which he did for around a year before exploring other options. He shared, 
"I first became aware of Mackenzie Construction as some of the guys from my football team worked there and one of my friends had just started as a trainee. At the time there was only apprenticeships in quantity surveying available which wasn't my first choice but the guys on the team spoke highly about working there and it was the industry I wanted to pursue my career in, so I applied for the position.  
Fortunately, after my interview with Mark Wilson I think he realised my skills lay more on the engineering side of things and they offered me a trainee engineer position. Now I'm six months away from qualifying and it's been quite a journey." 
Training & development  
Something we pride ourselves on at Mackenzie Construction is the level of support and mentoring our young people receive meaning our knowledge has been passed down the generations for over 40 years. Robbie has worked under Contracts Manager, Gavin Chesney's team for the past few years where he has received guidance from Gavin and Daniel as well as Project Manager, Paul Ferry and Site Engineer, Kier Adrain. 
Robbie said of working within Gavin's team,  
"It's been the same team of us for a few years and it's a very tight ship – we all get along and it's been brilliant working alongside them and learning from them. They're all really supportive and with them there's no such thing as a silly question." 
We also spoke with Daniel who has mentored Robbie for a number of years as well as coming through Mackenzie Construction's apprenticeship scheme himself, working up to his current position of Site Agent. He also spoke of the support received in the past from senior team members. He shares, 
"In my experience the support aspect is what stands out to me about the way Mackenzie Construction trains and develops its young people. When I was a trainee, I was fortunate enough to work under mentors like Robbie MacLean and Gavin Chesney who encouraged you to use your own initiative but were always there to support which helped me develop my work skills immensely but also overall encouraged me to become a better person." 
Having been a trainee himself, Daniel is well positioned to mentor our young people and has worked with a number of apprentices over the years. He shared,  
"Over the past few years I've had many trainees working under me on various projects and various clients. When they're fresh out of the blocks I'll usually have them shadow me so I can see where their strengths and interests lie. Once we've established that I'll start assigning them more responsibility and small goals to help build their confidence. I'm always there to support but I like to push them out of their comfort zone so they can continue getting better and better."  
This approach is something that Robbie has valued throughout his apprenticeship and the leadership qualities from Daniel, Gavin and the wider team have been something he has admired and wants to take forward into his career. Robbie said, 
"I've had a lot of strong values instilled from the beginning working under Gavin's team. They're consistently demonstrating hard work and a commitment to quality and health and safety which has motivated me to keep improving in these areas. They've had a lot of patience with me and other trainees and the way they treat people is really respectful – I look up to them all as managers. Now, when I've had younger trainees working with myself, I treat them the same as I know how beneficial that's been for me."  
Young Person of the Year 
Robbie's talent, drive for improvement and positive attitude earnt him the 2021 Young Person of the Year title as part of our annual Mackenzie Warriors awards. We asked some of his mentors to share why Robbie won this award. Daniel said, 
"Robbie has developed hugely over the years, he's very self-aware and always knows what he needs to do to be better. His technical ability is also great, he genuinely cares about his work and takes an interest in what he's doing. Seeing him grow and develop over the years has been a personal highlight as he's helped me grow as a manager and a person." 
Gavin added, 
"I've been fortunate to work with Robbie throughout his apprenticeship and he's really stood out on some of our key projects for his attitude, drive and eagerness to learn. He's showed full commitment to the team and business, enabling him to be recognised for his work ethic and I'm looking forward to seeing how his career continues to develop with us." 
Looking to Mackenzie Construction's next generation  
Over the years we've continued to expand and develop our apprenticeship scheme and we're now proud to have young trainees undertaking their apprenticeships with us spanning civil engineering, quantity surveying and bricklaying. The recruitment of our next generation of apprentices for various roles within the company is currently ongoing ensuring we have the talent in place now to manage the business in the future. 
When young people join Mackenzie Construction, they are not only being provided with supportive mentors and interesting work opportunities but a strong family culture and a business that genuinely cares about its people. We discussed with Robbie some of the best things about working at Mackenzie Construction, 
"The business is heavily invested in health and wellbeing and we take part in various activities and challenges that will benefit us in that area. There is also a big focus on mental health and the support is there for those that need it with a team of mental health first aiders that I'm proud to be a part of. We also work with some amazing charities and it's a good feeling to give something back to local causes." 
We asked Robbie if he had any final words for young people considering an apprenticeship in the civil engineering industry,  
"I'd 100% recommend it – it's challenging and there's ups and downs but that's the nature of the industry and it's how you approach these challenges that make you a better person. My advice to new trainees would be to ask as many questions as possible, speak to the site teams, speak to the contracts teams and absorb as much information as possible. Ultimately, it's a very rewarding career and your apprenticeship sets you up for life."