Fundraising for Chris's House: our 2019 nominated charity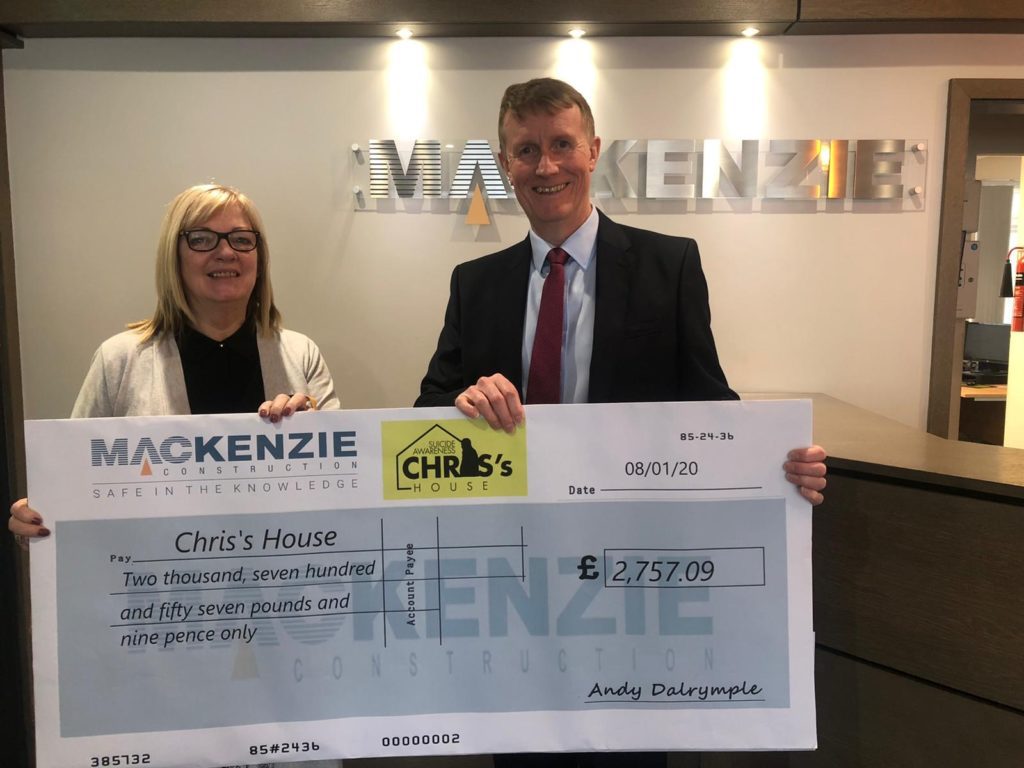 At Mackenzie Construction, we value our commitment to local causes and as such were honoured to support Chris's House as our nominated charity in 2019.
Centre of Help, Response and Intervention Surrounding Suicide (Chris's House) has been set up to offer a safe environment where people in crisis may have a respite from their current situation, by finding refuge living in Chris's House for up to five days, and involvement in an individually tailored attendance programme. From the outset, Mackenzie Construction was keen; not only to raise as much money as possible for this fantastic cause, but also to spread awareness of the work they do in offering immeasurable support to those in vulnerable situations.
Over the course of 2019 we held a number of fundraising events and activities that the entire Mackenzie Construction team were delighted to get involved with. We kicked off our fundraising activities in April with a sweepstake for the Grand National and then an Easter egg competition. In July we hosted a friendly (but competitive!) 11-a-side football match in Barrhead that saw the Greens beat the Blues 7-4. This was then followed in August with 25 of our staff braving the weather for our charity golf day at Kirkintilloch Golf Course, which raised a fantastic £1400.
46 members of the team pulled on their running shoes in September to take on a 10k charity event. This was a fantastic achievement for those involved and saw friends and family getting in on the fundraising via a JustGiving page.
In November, our team took on a cycling challenge that involved cycling the distance from our site furthest north (Wick) to our site furthest south (Newton Stewart). With exercise bikes set up at our head office, the team worked together to cover a total distance of 348 miles. This was no mean feat but the team did brilliantly and smashed their target.
We rounded up our fundraising activities in December with a Christmas Jumper Day, which saw Steven Gibson winning the prize for best jumper.
Mackenzie Construction would like to take the opportunity to thank all of the team, their family and friends, as well as our clients and supply chain who have all contributed to our fundraising efforts for Chris's House. At the end of the year we have reached an outstanding total of £2,757, which was officially handed over to Chris's House at our head office on Friday 7th February.
We were delighted to receive the following message of thanks from Chris's House:
"On behalf of Chris's House, we want to extend our deepest gratitude for the fundraising that you did for the charity. Fundraising efforts from individuals like you have a significant impact on changing lives. Every donation we receive helps us to provide vital services to people in crisis and those who have been affected by suicide."