Foundations for the future: attracting and retaining the industry's best talent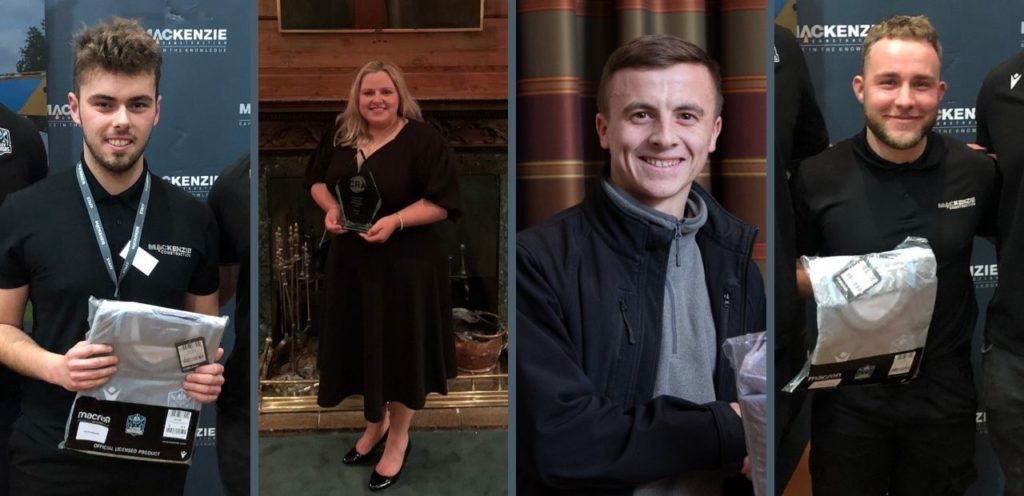 Mackenzie Construction has a long history of developing talent from within. Our Contracts Director, Mark Wilson, started with us when he was just 16 and worked his way up, playing an integral role in building the business to where it is today. We believe that supporting and empowering our talent is essential to creating a passionate, focused team who strive to exceed standards and deliver safe, high quality and efficient projects which drive our business forward.
In-house focus
From the early days of Mackenzie Construction, we have been committed to giving opportunities to young people from our local communities and providing them with the training and mentoring that they require to develop their career with us.
Our team of foremen have over 1000 years' service between them and have been invaluable in passing on their knowledge and experience to the younger generation. In recent years, this group were put through a bespoke Foreman Training Course to equip them with the appropriate tools and techniques to coach and mentor our younger workforce.
More recently we opened our in-house Mackenzie Construction Training Academy to encourage the sharing of team experience and build core technical skills amongst the younger generations. Sessions to date have offered technical skills training on several critical service areas applicable to the water sector, focusing on areas such as structural concrete repairs and service strike avoidance.
To lead the initial training, the team turned to seasoned Structural Foreman, Mark Keegan, who has worked at Mackenzie Construction for 15 years, delivering projects for a broad range of clients, such as Scottish Water, Aberdeen City Council and Edinburgh City Council.
Though Mark has always been generous in passing on his considerable knowledge and expertise with his teams, this opportunity offers a new avenue for his passion for learning and sharing skills with a wider audience at the training centre. Speaking about the sessions so far, Mark said,
"Although we're just getting started at the Mackenzie Construction Training Academy, it's been a real pleasure being able to share my experience, methods and systems of work with a group of keen staff, who have the needs of our clients in mind. It's brilliant to be a part of developing the tremendous talent in our business and with some great feedback from the team already, I can't wait to see their confidence and skillsets grow as we deliver further sessions over the coming months."
Taking the next step
This focus on training and development has seen a number of recent promotions amongst our young workforce. Site Engineer, James McClure started with Mackenzie Construction four years ago as a Trainee Engineer and was recently promoted upon completion of his HNC in Civil Engineering. James has also undergone training in First Aid and the Site Supervisors Safety Training Scheme (SSSTS) which is endorsed by Build UK for all supervisors working on Build UK sites and provides an understanding of health, safety, welfare and environmental issues.
"Mackenzie Construction really stands out for me because of how they treat their workforce – especially their trainees. Not just in terms of wages but also in the levels of trust and respect you are given; they really are a great bunch of people to work for and it makes my job really enjoyable." – James McClure, Site Engineer
Another of our young engineers taking a step up is Danny Brown, who was recently promoted from Senior Contracts Engineer to Site Agent. Danny started as a Trainee Engineer seven years ago and has quickly moved through the ranks. He has experience in a range of Civil Engineering specialisms, having worked on a variety of projects for key framework clients like Scottish Canals, Scottish Water and Landmarc.
Danny told us that he still learns every day, not just through structured training but also from informal mentoring through his Contracts Manager, Gavin Chesney and the Site Foremen. He now works with some of our younger trainees and enjoys helping them to develop, having experienced it all himself. This is really testament to Mackenzie Construction's family culture and knowledge being passed through the generations.
Award-winning talent
At the end of every year, we recognise our team with the Mackenzie Warriors award ceremony, presented by players from the Glasgow Warriors, where categories span 'Team of the Year' through to 'Young Person of the Year'. Many of our young people received awards this year, highlighting their skills, commitment to the business and delivering results for our clients.
Site Engineer, Keir Adrian, was awarded last year for going the extra mile in 2019.  Keir worked on our project at Highlands and Islands Airport, volunteering to station himself in Inverness. His control of subcontractors on site was outstanding as well as demonstrating effective communication with the client which was essential in this environment. Keir started with Mackenzie Construction through our apprenticeship scheme in 2015 and has gone from strength to strength, working on projects spanning Environmental, Clean Water and, more recently, Defence.
"We're committed to Mackenzie Construction because the business is committed to us and you really see this through the number of long service employees. The opening of the new Training Academy shows how invested the team is in the future of the business and moving forward with the times. It's motivating to see colleagues who have moved into roles like Site Agent and are now leading big projects. I'm loyal to the business:  and I've got aspirations to go all the way." – Keir Adrain, Site Engineer
And it's not just internally that our talent is recognised. Kristina King, who was recently promoted to Senior Contracts Engineer, won the first ever Emerging Talent Award at the 2019 Concrete Repair Association dinner in London. Originally employed as a Graduate Site Engineer, Kristina has proven time after time her ability to deliver completed Concrete Repair and Refurbishment projects to a high standard, on time and within budget. This award was testament to her fantastic work and commitment to our business, clients and key focuses on safety, innovation and sustainability.
Foundations for the future
We acknowledge the challenges our industry faces from an ageing workforce and the importance of safeguarding the future of our business. With strategic focuses in digitalisation, sustainability and net zero targets, we realise the essential role our young workforce has in achieving our ambitions and are committed to attracting, nurturing and retaining the industry's best young talent.