Claypits Local Nature Reserve: Connecting Communities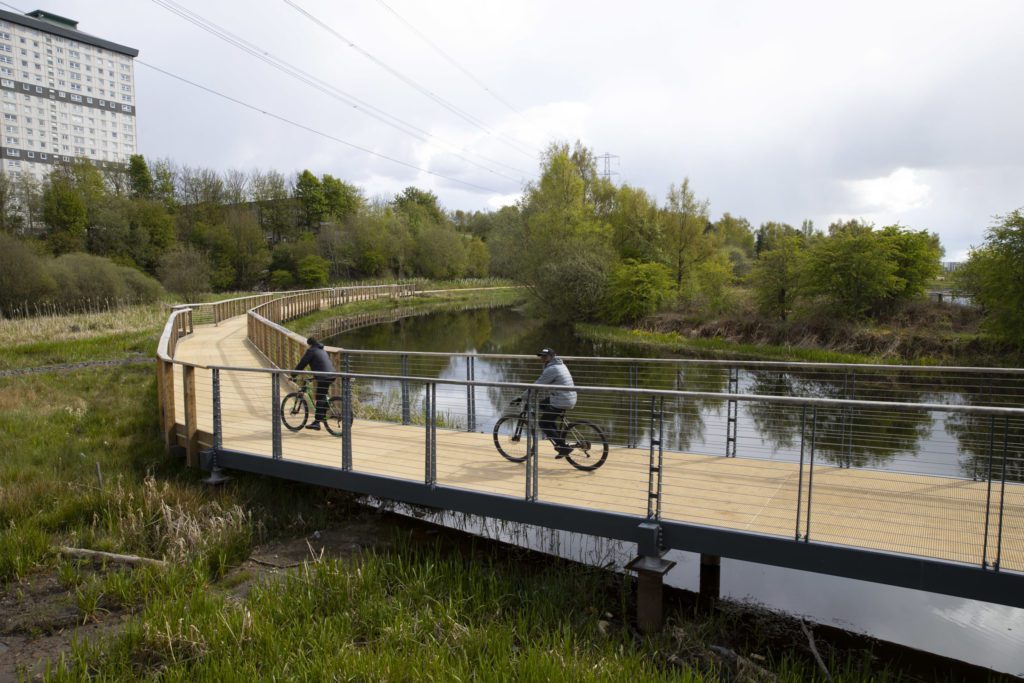 The Claypits Local Nature Reserve in North Glasgow was originally the home of a clay quarry used when the Forth & Clyde Canal was first built in the late 1700s. Over the last few years, Scottish Canals, with Glasgow City Council and Friends of Possilpark Greenspace, have worked together to safeguard The Claypits' future by having it protected as a Local Nature Reserve. They also secured £7m in funding to support the sensitive development of the site in partnership with the local community.
As part of the regeneration project, officially being opened today (31 July), Mackenzie Construction was contracted for a range of works from environmental and landscaping improvements right through to the full design and build of a sliding pedestrian bridge which is retractable to allow boaters to pass on the canal. Now complete, the area will provide much needed greenspace for local communities.
The new pedestrian bridge, Garscube Bridge, opened in Autumn 2020 and acts as a key link for the local communities of Firhill, Woodside and Maryhill. The construction of the bridge was part of the wider project at the nature reserve that will enhance the area and provide much needed greenspace for the 75,000 people living within a 20-minute walk of the Claypits. This part of the project has already won a Living Waterways Award in the 'Engaging Communities – Large Scale' category.
Following on from the successful opening of Garscube Bridge last Autumn, we have been working on further development of the path network and a new activity centre and bump cycle track during the final stages of the regeneration project at the Claypits Local Nature Reserve. As part of the path development, we completed the Panmuir Gate elevated walkway and new timber boardwalk and Ellesmere Gate to Garscube Bridge which is now open to the public. We have also completed the last link path which connects the local community of Maryhill to the Claypits.
The joint-funded project aims to safeguard the future of the space and is part of the Glasgow Canal Project, a collaborative initiative to open North Glasgow's canal spaces to the wider community, placing local people and organisations at the heart of the project.
Contracts Manager, Robbie MacLean said:
"We've had a great response from the public who have been utilising the spaces since the opening of the bridge. It's clear to see the regeneration of the reserve will have a big impact on the local communities in North Glasgow and we're proud to have been part this project and to see the official opening taking place today."
Did you know: The Claypits was originally the home of a clay quarry, used when the Forth & Clyde Canal was first built in the late 1700s, and has also been the site of a foundry, glassworks and boat-building yard. These industries are long gone but the historic canal buildings, the oldest in Scotland, still dot the banks.