Christmas Training Day 2019: announcing our winners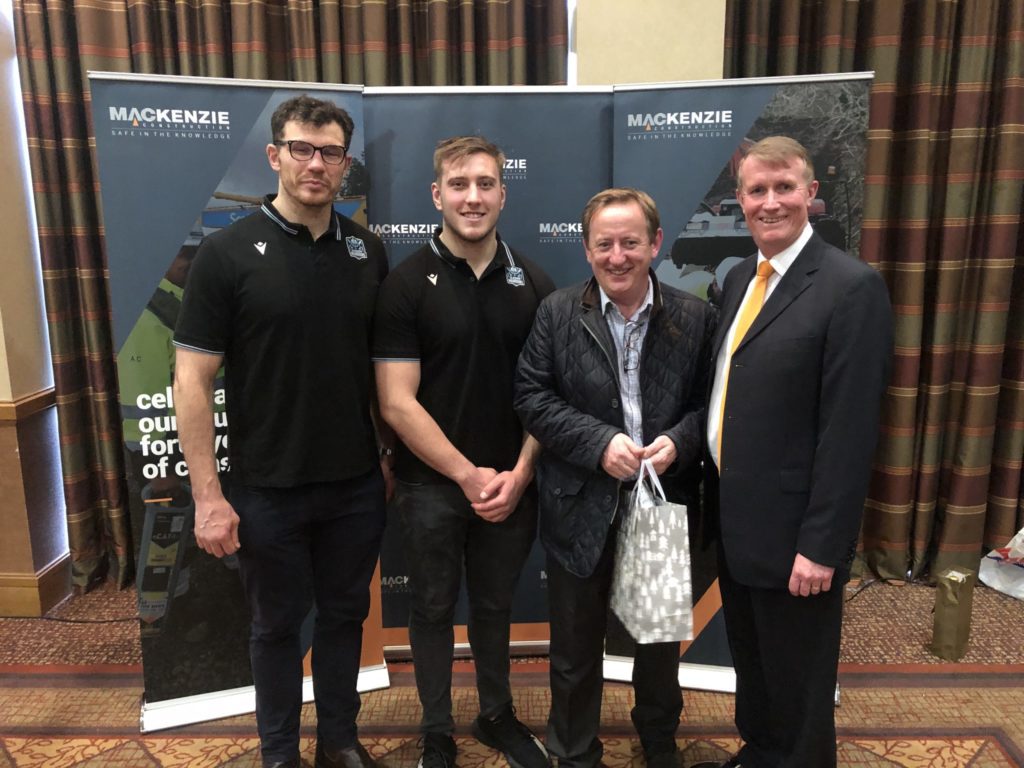 Our annual Christmas Training Day took place on Friday 20th December 2019 at the Westerwood Hotel and was attended by all of our employees. The day kicked off with Managing Director, Andy Dalrymple, extending a vote of thanks to all for making 2019 a very successful year for Mackenzie Construction. Contracts Director, Mark Wilson, then took us through the highlights of 2019, focusing on how our people are the foundation on which our success is built.
The day continued with various presentations and break out groups covering topics such as health, safety, environmental, wellbeing and quality. A key focus this year was behavioural-based safety and a presentation from Eddie Woods of Karrdale honed in on the message of "community" and the importance of maintaining the safety of all within it. Following this we outlined the events we have planned for 2020 to celebrate our 40th anniversary with an inspiring video from our People Ambassador, Scott Meenagh.
We also used this event to recognise "Mackenzie Warriors", individuals and teams who have gone the extra mile during the year. As the official Civil Engineering sponsor of the Glasgow Warriors, players Matt Fagerson and Tim Swinson were on hand to present prizes to our award.
We are delighted to announce the following winners:
Young Person of the Year – Kyle McLean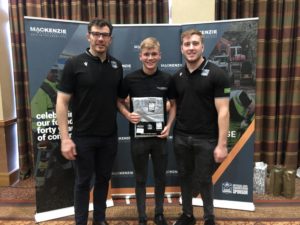 Our Young Person of the Year Award goes to someone who has demonstrated a willingness to take on more and more responsibility with minimal supervision. We were delighted to announce this year's winner as Kyle McLean. Kyle joined us in February as a Trainee Engineer and has continued to excel in all he has been tasked with.
Team of the Year – Fort Augustus Team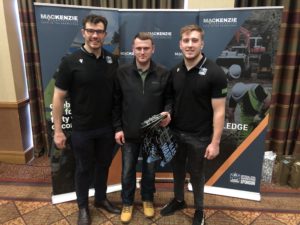 This year's Team of the Year award went to the Fort Augustus Team for their work to replace the Fort Augustus and Kytra Locks on the Caledonian Canal. The team exemplified commitment to supply chain engagement, stakeholders and the local community, resulting in a joint award (with Scottish Canals) for Heritage and Restoration 2019 at the Scottish Civil Engineering Awards.
SORs Staff – Craig Adam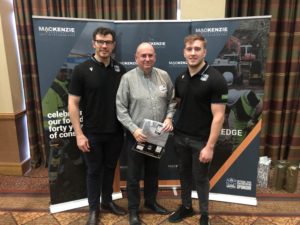 A Site Observation Report (SOR) is an essential aspect of all Mackenzie Construction Projects – a one-page form that identifies and captures examples of positive and negative practice on site. The winner of this category is the member of staff who has raised the most SORs, showing commitment to continuous improvement for the business. We were delighted to announce Craig Adam as the winner of this award in 2019.
SORs Site – David McNiven Jnr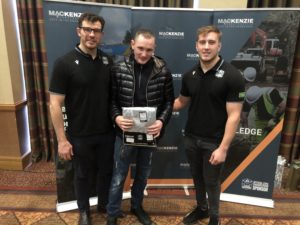 Winning the award for SORs Site is David McNiven Jnr, who raised the most SORs across all of our site teams. His dedication and commitment to reporting on his observations has enhanced our capability to analyse and learn from each site.
SORs Foreman – Donald Sinclair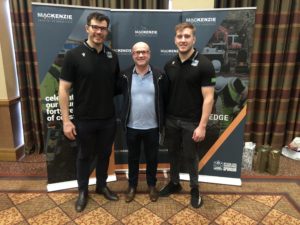 The SORs Foreman award went to Donald Sinclair who was the Foreman to generate the largest number of SORs. Our Foremen are our frontline supervisors on site and as such their input is critical to the success of the business. Donald's commitment to improving practices on site has set an excellent example for all of our site teams.
Toolbox Talk – Frank Ferry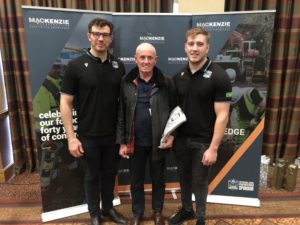 Frank Ferry won the Toolbox Talk award for his insightful and engaging toolbox talks which contribute directly to our continuous improvement. This award highlights the importance of toolbox talks for learning, development and communication between teams and Frank showed a real commitment to sharing knowledge in 2019.
Health, Safety and Environmental Award – Greenhills Team Water & Sewer Team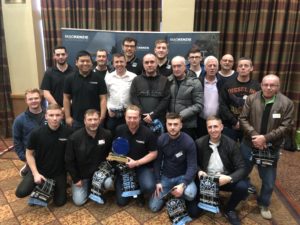 As safety is our number one focus and is central to all decision-making, this award was hard fought, with everyone at Mackenzie fully aware of the importance of safe working practices. The award for Health, Safety and Environmental went to the Greenhills Water and Sewer Teams who received employee recognition letters earlier in the year for their hard work and commitment on this project.
Quality Staff – Danny Brown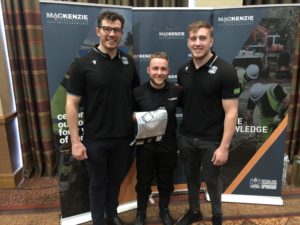 Our Quality Staff award went to Danny Brown who started with Mackenzie Construction as an apprentice and has worked his way up to Contracts Engineer. He is driven, full of enthusiasm, and committed to delivering high quality work for some of our biggest clients.
Quality Site – Mark Keegan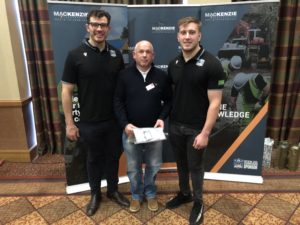 Our Quality Site award-winner, Mark Keegan, has been instrumental in achieving quality for Mackenzie Construction across all of our client projects through careful planning and on-site monitoring.
Staff Who Have Excelled During 2019 – Paul Dunne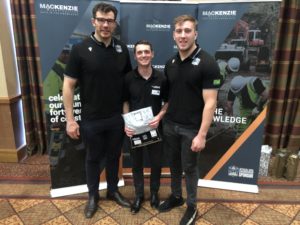 This award went to Paul Dunne, a staff member who has been recognised for his fantastic work helping to future-proof Scottish Water's Mauldslie Bridge, a key historic asset and much-loved local landmark.
Staff Who Have Gone The Extra Mile In 2019 – Keir Adrian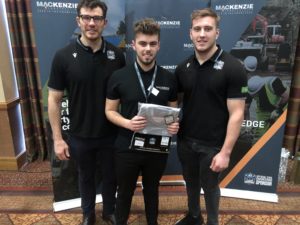 Keir Adrian was the staff member who was rewarded for going the extra mile in 2019. Keir worked on our project at Highlands and Islands Airport, volunteering to station himself in Inverness for four months. His control of sub-contractors on site was outstanding as well as demonstrating effective communication with client which was essential in this environment.
Site Employees Who Have Excelled During 2019 – Robert Keegan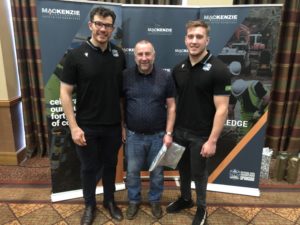 The site employee who received the award for excelling in 2019 was Robert Keegan. Robert has made the transition from Operative to Supervisor this year and has consistently impressed with a string of projects that have been completed on time and without incident.
Site Employees Who Have Gone The Extra Mile In 2019 – Andy Henry and squad along with Kevin Houston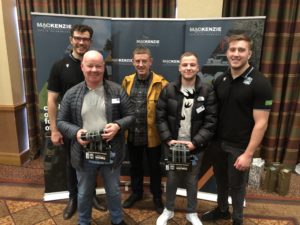 This group of site employees have been awarded for their work with Severn Trent Water, receiving excellent client feedback and carrying out a first class job. Aside from this project, their performance all year has been solid and reliable with Andy Henry balancing a very demanding workload.
The day was an excellent way to round off 2019, a fantastic year of growth, learning and success for Mackenzie Construction. Thank you to everyone who attended and congratulations to all of our award winners.